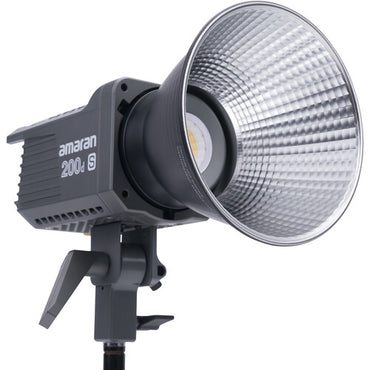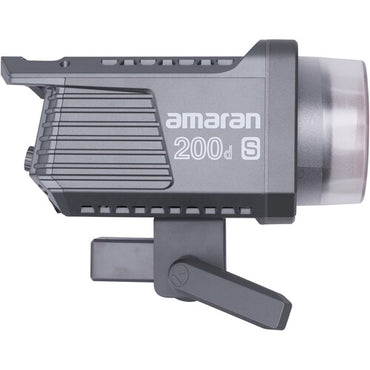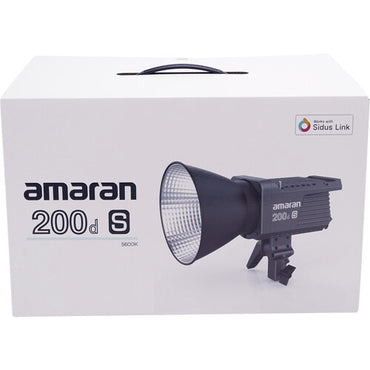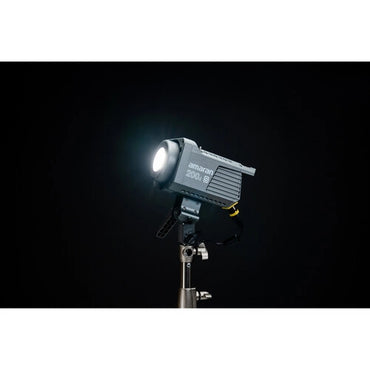 Description
*Contact us to find out more about ordering

amaran expands its LED monolight line with the S-series COB 200d S Daylight LED Monolight, adopting the all-in-one form of the previous COB 200d. With an upgraded LED chipset design, this 200W fixture has enough power to illuminate a room with high-quality light. It provides a solid 5600K color temperature with an ultra-high SSI score across the board for extremely accurate and improved color reproduction. This point-source light has a generous output of 55,800 lux at 3.3' when paired with the included hyper reflector. A variety of eight lighting effects are easily accessible to help you simulate different creative looks. This is the ideal choice for videographers, content creators, and photographers looking for a lightweight and quiet light without sacrificing image quality. Its silent cooling system will not interfere with any scenario, whether creating content at your home studio or on location.
You can find the right level of illumination for your scene with 0 to 100% dimming and easily make adjustments locally on the unit with an intuitive LCD screen. Wireless control is also possible from a distance of up to 328' using your smartphone and the Sidus Link app. It lets you conveniently select your lighting settings, activate Lighting FX, or control multiple units at the same time. The 100d S offers extended power options and is ready for worldwide use thanks to its included 100 to 240 VAC power supply. For situations when AC power is unavailable, it can also run on two optional V-mount or Gold mount batteries using the separately available 2-Bay Battery Power Station. Equipped with a full-size Bowens mount, it allows compatibility with a wide array of light shapers.
Detailed Color Fidelity System
The S-series has improved spectral continuity to achieve the enhanced color quality of an ultra-high SSI (D56) of 87, a 17.5% increase in SSI from its predecessor. Impressive ratings of CRI 96, TLCI 99, CQS 95, and TM-30 Rf 95/Rg 103 are your assurance of a high degree of accuracy in color reproduction at all times. Suitable for home studios or live stream setups, the significantly improved spectral quality of the 200d S will ensure accurate skin tone reproduction for your videos and photos.
Powerful Output with Hyper Reflector
The 200d S emits up to 7890 lux at a distance of 3.3' at 5600K. When equipped with the included hyper reflector, the light's output climbs to an impressive 55,800 lux. It is a suitable choice for filmmakers and photographers alike by producing both soft and intense lighting for all shooting environments.
Preset Effects
The light has eight special effects, including paparazzi, fireworks, lightning, faulty bulb, TV, pulse, strobe, and explosion.
Lightweight and Versatile
The amaran 200d S is a lightweight lamp head with an integrated umbrella mount and full Bowens mount versatility. You can combine it with a large selection of optional modifiers including the Light Dome SE, Light Dome Mini II, and Aputure Lantern.
Additional Benefits and Details
0 to 100% stepless dimming
Ability to adjust the light in 1% increments
Click the control knob for intensity presets with ease
Integrated silent cooling system
Includes 9.8' long power cable
Weighs only 3.44 lb
Easy to manage and stow away when not in use
Reviews
If you have any questions regarding this product feel free to call The Film Equipment Store where one of our experts will be happy to help. We are here for you.
We try to ensure we are giving our customers the best advice and best value on all our products however if you do see this product cheaper else where simply tell us and we will endeavor to match the price.