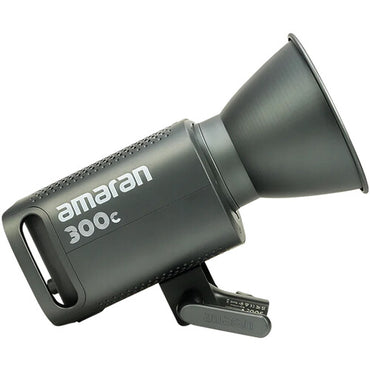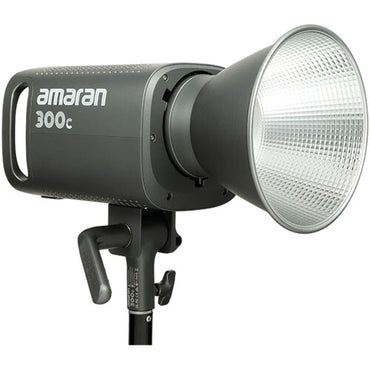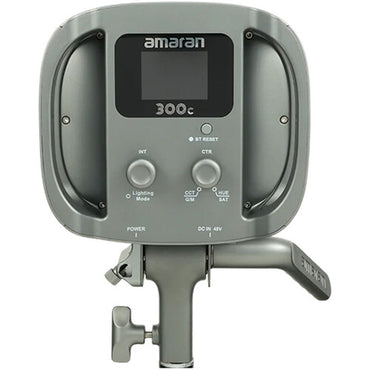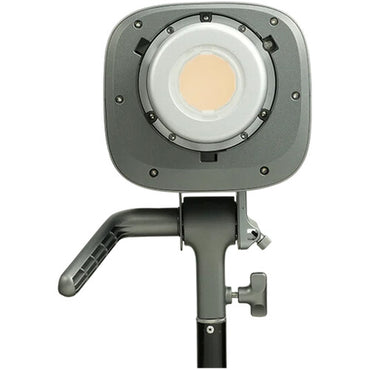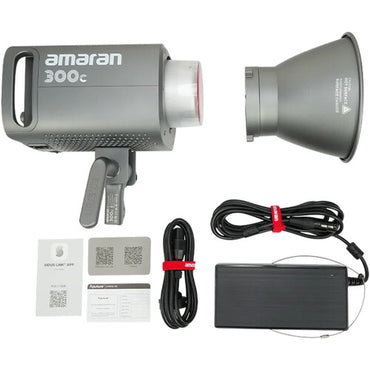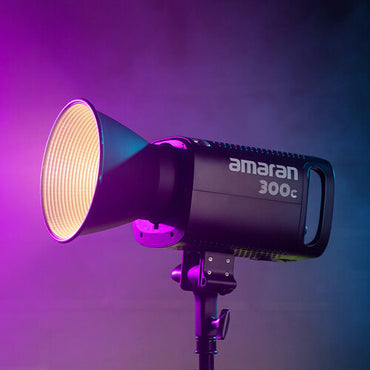 Description
*Contact us to find out more about ordering
A powerful point-source light that combines RGBWW full-color control and Bowens mount versatility, the 300c RGB LED Monolight from amaran is a variable color temperature light fixture ideal for filmmakers, photographers, and creators. You get modifiability for magnified or diffused output and full-color control throughout its expanded 2500 to 7500K CCT range. Featuring highly accurate color reproduction, the 300c also ensures high-quality light output with up to 26,580 lux at 3.3' using its included reflector. The 300c provides nine built-in special effects for paparazzi, fireworks, lightning, faulty bulb, TV, pulsing, strobe, explosion, and fire. You can find the right level of illumination for your scene with 0 to 100% stepless dimming.
Quickly make adjustments locally on the fixture or remotely via Bluetooth using your smartphone and the Sidus Link app. With 300W of output, this light can easily be a key or fill light on set. In addition, its silent active cooling system allows it to be used in environments that require quiet atmospheres, including small studios, interviews, and indie film sets. The compact lamp head measures only 9.8 x 6.1 x 5.6" and is ready for worldwide use via its 100 to 240V power supply. For situations when AC power is unavailable, it can also run on optional Gold or V-mount batteries using the separately available Aputure 2-bay battery power station. A carry bag is included for convenient storage and transportation.
Advanced Color Control
Fully tunable green-magenta adjustment and 360° HSI color control
High CRI/TLCI scores of 95 ensure faithful skin tones
Accurate and consistent color reproduction with CQS of 97, SSI (D56) of 71, SSI (Tungsten) of 83, TM-30 Rf of 92, and TM-30 Rg of 101
Reproduces up to 90% of colors within Rec.2020 color space
Control Methods
Minimalist user-friendly interface with two control knobs and a large LCD screen for easy onboard control
Compatible with the Sidus Link app with a 328' Bluetooth wireless range
The app allows adjusting the HSI or CCT and controlling multiple lights at once
Color-Blending Optical Design
Bowens mount compatible, the 300c can be used with optical and soft modifiers including the brand's Fresnel 2X, Spotlight SE, and Light Dome Mini SE. By changing modifiers, the light can fill the roles of multiple fixtures on set, producing from hard to soft light.
Additional Benefits
Includes 7" diameter reflector
Built-in umbrella holder
Redesigned ergonomic Bowens mount release latch for effortless use when swapping between accessories
All-metal Bowens mount to handle the weight of heavier modifiers
All-metal baby pin receiver and tilting bracket to withstand the rigors of fast-paced film sets
Sleek lamp head design, compact and lightweight at just 5.86 lb
Easy handling with dual rear-facing side handles
Reviews
If you have any questions regarding this product feel free to call The Film Equipment Store where one of our experts will be happy to help. We are here for you.
We try to ensure we are giving our customers the best advice and best value on all our products however if you do see this product cheaper else where simply tell us and we will endeavor to match the price.