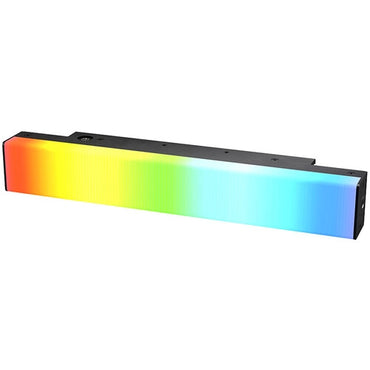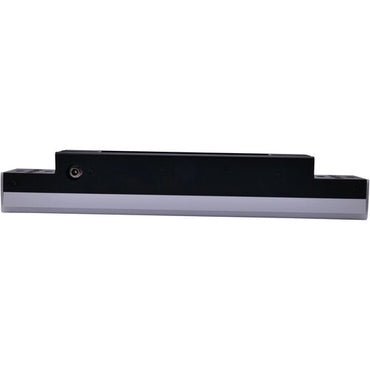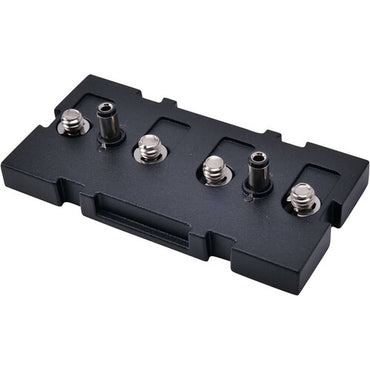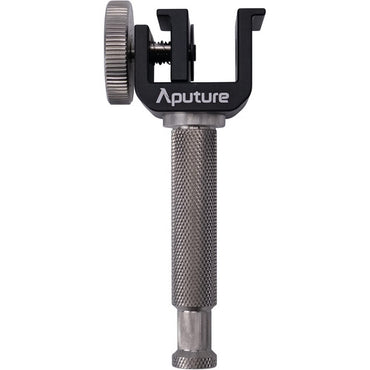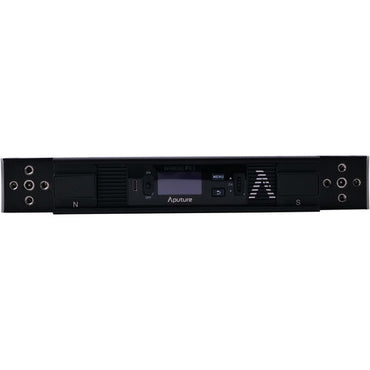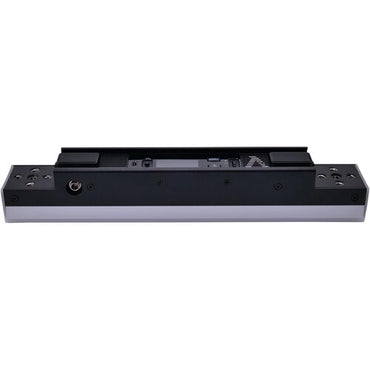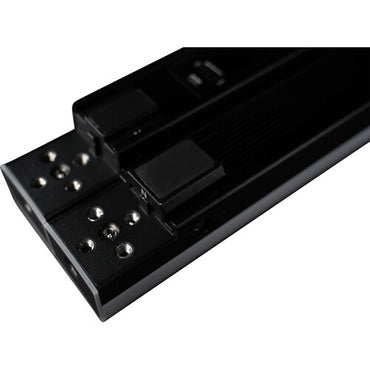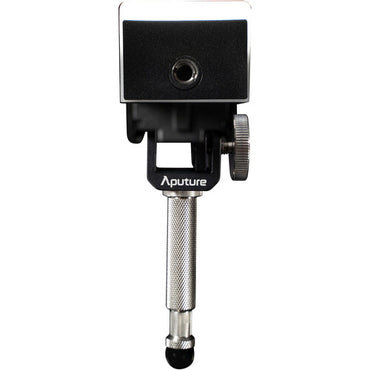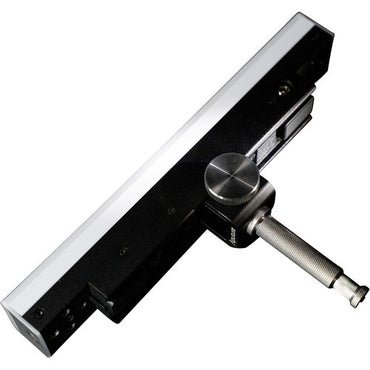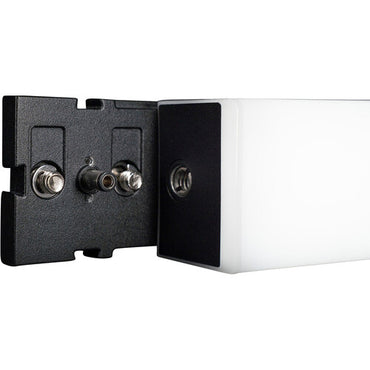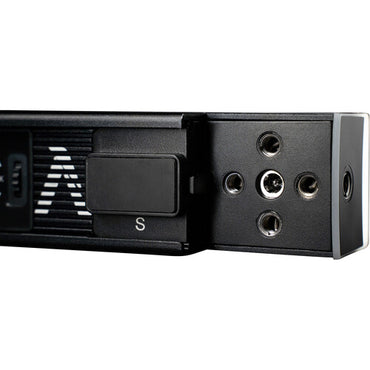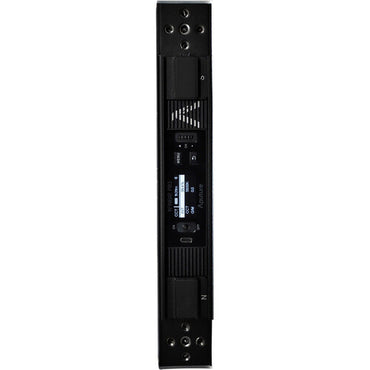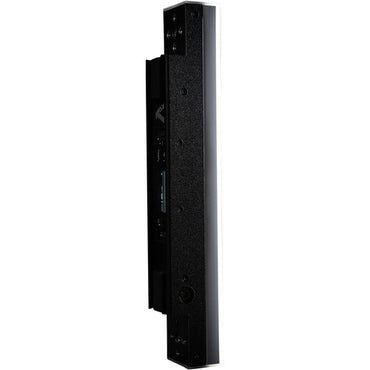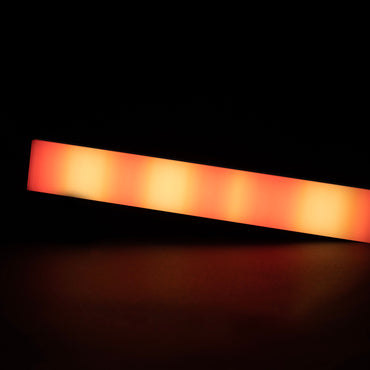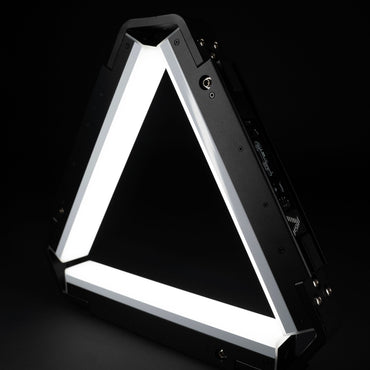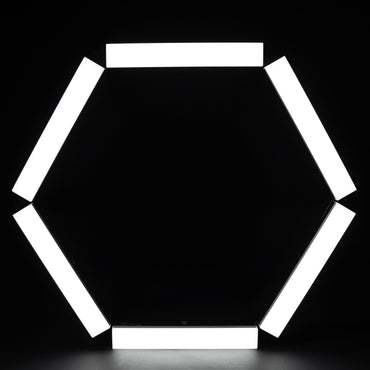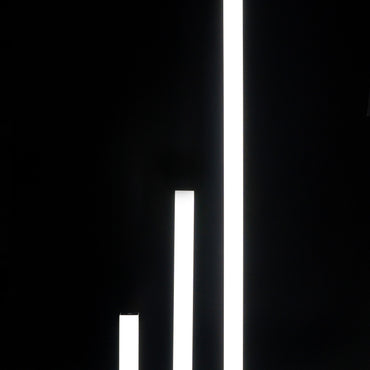 Description
*Contact us to find out more about ordering
Versatile and precise, the 1' INFINIBAR PB3 RGB LED Light Panel from Aputure is a professional's choice for dynamic and colorful lighting designs. Featuring 24 pixels of CRI 96/TLCI 98 color quality throughout its multiple color modes, the INFINIBAR is designed to be a key light, built directly into sets, or used with its connector ecosystem to create new shapes and designs. The unit's proprietary RGBWW chipset produces color temperature light of 2000 to 10,000K with full green-magenta adjustment, and it has advanced hue, saturation, and intensity controls for a wide gamut of precise and accurate colors. Connect multiple INFINIBAR panels of any size with up to ten different connectors, available separately, then synchronize them via the Sidus Link app, LumenRadio CRMX, or through wired DMX with an optional USB-C to DMX adapter.
Lightweight at 1.3 lb, the INFINIBAR features a durable aluminum housing that's also mountable with the included Clamp to Baby Pin Adapter, two 1/4-20" female threads, and the Straight Connector for the INFINIBAR Rail system. The unit can be powered with a built-in lithium battery that can operate at 100% brightness for 120 minutes or via the included AC adapter. Alternately, multiple units can share one power supply when linked together with the power-sharing connectors.
Output
1' 6.5W panel light with proprietary RGBWW chipset and 24 individual pixels (or lighting zones)
145 lux at 6500K
0 to 100% brightness control at increments of .1%
Nine built-in lighting effects: Fireworks II, Fire II, Paparazzi II, Faulty Bulb II, TV III, Pulsing III, Cop Car III, Lightning III, Party II
Seven pixel effects: Color Fade, Color Cycle, 1-Pixel Chase, 2-Pixel Chase, 3-Pixel Chase, Rainbow, Pixel Fire
Color
Fully tunable correlated color temperature (CCT) from 2000 to 10,000K with green and magenta adjustment
High color standards of CRI: 96+, TLCI: 98+, SSI (D56): 74, SSI (Tungsten): 85, TM-30 Rf: 94, and TM-30 Rg: 103
Advanced HSI with white point CCT control, industry-standard xy (CIE 1931), RGB, 300+ gel presets, and greater than 90% of colors within Rec.2020 color space
Power
AC adapter included
Built-in 14.8Wh lithium battery lasts up to 120 minutes at maximum output
Smart Battery Life Mode adjusts the runtime to 2, 4, 6, and 8 hours
Share AC Power over multiple INFINIBARs with connector ecosystem
Connect and Control
Multiple control methods: Sidus Link App, LumenRadio CRMX, DMX/RDM via USB-C cable available separately
Straight connector included; nine other splicing connectors available separately (triangle flat, triangle 3D, hexagon flat, hexagon 3D, 3-way flat, 4-way flat, 6-way flat, square flat, and square 3D)
Infinite blending design to reduce visible gaps when connecting multiple lights
Included mounting options: Clamp to Baby Pin Adapter, two 1/4-20" female threads, magnetic spacers, and the Straight Connector for the INFINIBAR Rail system
Reviews
If you have any questions regarding this product feel free to call The Film Equipment Store where one of our experts will be happy to help. We are here for you.
We try to ensure we are giving our customers the best advice and best value on all our products however if you do see this product cheaper else where simply tell us and we will endeavor to match the price.