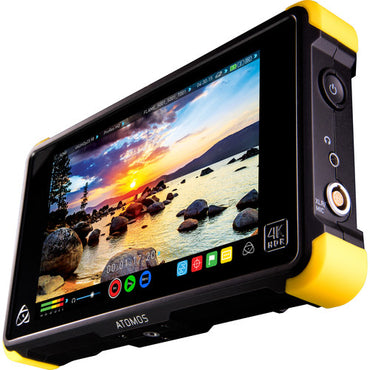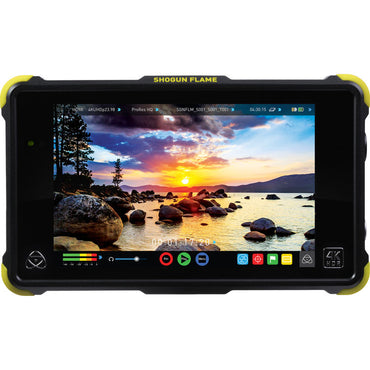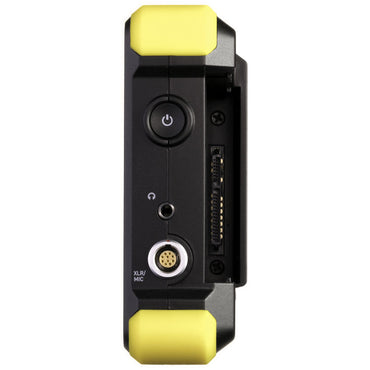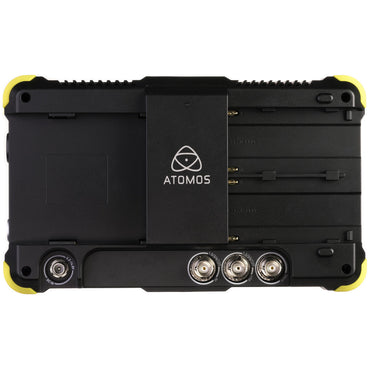 Atomos Shogun Flame 7" 4K HDMI/SDI Recording Monitor - The Film Equipment Store
Overview
Atomos Shogun Flame 7" 4K HDMI/SDI Recording Monitor - The Film Equipment Store
The Atomos Shogun Flame is a 7", 1920 x 1200 on-camera recording monitor that combines 4K recording with a 10-bit FRC panel that supports native display of HDR (log) footage as well as high brightness viewing of Rec. 709 footage. It utilizes 4K HDMI and 12G-SDI inputs to support clean output signals at resolutions up to UHD 4K (3840 x 2160), recording it to 2.5" SSDs using 10-bit, 4:2:2 Apple ProRes and Avid DNxHR codecs. It even supports DCI 4K (4096 x 2160) raw video streams over SDI from select Sony and Canon cameras, encoding it as ProRes/DNxHR files.
The monitor features 10-bit FRC processing and AtomHDR display technology support a 10-stop brightness range, allowing you to more accurately monitor your log gamma footage without having to view flat, washed-out looking images or use a LUT to compress the dynamic range and color space. The monitor offers built-in pre-sets to accurately translate popular log formats from Sony, Canon, Panasonic, ARRI, RED, and JVC cameras. The settings only affect viewing, with recorded video remained unaltered.
In addition to HDR monitoring, the monitor also offers a High-Bright mode for traditional Rec. 709 monitoring. This mode takes advantage of the full 1500 cd/m² brightness to allow for more confident monitoring in bright outdoor environments, even without a sun hood. In HDR mode, use of an included snap-on sun hood is required, as displaying a wider brightness range reduces the overall brightness of the monitor.
Built to withstand the rigors of production, the Shogun Flame features built-in protective armor that features silicone-covered corners and chamfered edges. Compared to the original Shogun, the Flame now features dual Sony L-Series battery plates that support battery hot-swapping, enabling longer run times. For audio recording, the monitor supports balanced XLR inputs with +48V Phantom Power via an included audio breakout cable. Additional features included Genlock / LTC input, SDI/HDMI cross-conversion, and a variety of onscreen exposure analysis, framing, and focus assist tools. An AC adapter is included, as is a Master Caddy II 2.5" drive enclosure. For protection during storage and transport, a zippered travel case is also included.
Monitor

1920 x 1200 resolution
10-bit FRC monitoring processing
1500 cd/m² brightness
AtomHDR technology displays 10 stops of dynamic range to natively display HDR (log) footage
Presets for viewing log gamma curves from Sony, Canon, Panasonic, ARRI, RED, and JVC cameras
High-Bright mode for Rec. 709 viewing
Supports custom 3D LUTs (.cube format)
Anamorphic de-squeeze: 2x, 1.5x, 1.33x, Panasonic 8:3
4K UHD downscale for HD monitoring
Input/Output

4K HDMI and 12G-SDI inputs / outputs
SDI/HDMI cross-conversion
Genlock / LTC input
Audio breakout cable for XLR audio input
Recording

UHD 4K recording at 24/25/30 fps
1080p recording up to 120 fps
10-bit 4:2:2 ProRes and DNxHR recording to SSD/HDD media
4K raw to ProRes/DNxHR recording over SDI from Sony FS700, Sony FS7, Canon C300 Mark II, and Canon C500
Pre-roll record (HD 8 seconds, 4K 2 seconds)
Custom time-lapse mode
10 metadata fields
Additional Features

Dual Sony L-Series battery slots support hot-swappable for continuous power
Built-in armor with silicone-covered corners
Audio level meters and mic level adjustment


Product Highlights

1920 x 1200 Touchscreen Display
10-Bit FRC Monitor Processing
4K HDMI and 12G-SDI Inputs/Outputs
1500 cd/m² Brightness
HDR Mode with 10 Stop Dynamic Range
High-Bright Mode for Rec. 709 Viewing
UHD 4K up to 30p / 1080p up to 120 fps
10-Bit 4:2:2 ProRes & DNxHR Encoding
Records to 2.5" SSD/HDD Media
Dual Sony L-Series Battery Slots
Specification
Display
Panel Type
IPS-Type LCD
Display Size
7.1" / 18.0 cm
Screen Resolution
1920 x 1200
Aspect Ratio
16:9
Touchscreen
Yes
Maximum Brightness
1500 cd/m2
Bit Depth / Color Support
8-Bit+FRC (1.07 Billion Colors)
Pixels Per Inch (ppi)
325 ppi
LUT Support
Yes
I/O
Video
1 x

 

HDMI 1.4b (HDMI Type A) Output
1 x

 

12G-SDI (BNC) Output
Embedded Audio
HDMI: 8-Channel
SDI: 12-Channel
Audio
1 x

 

3.5 mm Headphone Output
1 x

 

10-Pin LEMO Input/Output
Built-In Speaker
None
Power
1 x

 

Barrel Input
Other I/O
1 x

 

Genlock/LTC (BNC)
1 x

 

LANC (2.5 mm)
Card Slot
None
Format Support
Video Format
HDMI (8/10-Bit 4:2:2)
UHD 4K: 24/25/30 
1080p: 24/25/30/50/60/120 
1080i: 50/60 
720p: 50/60 
SDI (8/10-Bit 4:2:2)
UHD 4K: 24/25/30 
1080p: 24/25/30/50/60/120 
1080PsF: 24/25/30 
1080i: 50/60 
720p: 50/60 
Video Signal Conversion
HDMI to SDI
UHD 4K: 24/25/30 
1080p: 24/25/30/50/60/120 
1080i: 50/60 
720p: 50/60 
SDI to HDMI
UHD 4K: 24/25/30 
1080p: 24/25/30/50/60/120 
1080i: 50/60 
720p: 50/60 
Recording
Pulldown Conversion
2:2, 3:2
Camera Trigger
SDI, HDMI
Encoding Formats
4096 x 2160
ProRes Raw, Raw HQ, 422, LT, HQ 
DNxHR HQ, HQX, SQ, LB 
3840 x 2160
ProRes 422, LT, HQ 
DNxHR HQ, HQX, SQ, LB 
1920 x 1080
ProRes 422, LT, HQ 
DNxHD 220x, 145, 36 
Recording Media
1 x

 

2.5" SSD (SATA III)
Phantom Power
+48 V
Power
DC Input Power
6.2 to 16.8 VDC
Battery Type
2 x

 

L-Series
Power Consumption
10 W (Typical)
24 W (Maximum)
General
Material of Construction
Polycarbonate
Dimensions (W x H x D)
8.4 x 5 x 1.8" / 21.4 x 12.7 x 4.5 cm
Weight
1.4 lb / 0.65 kg
2.4 lb / 1.09 kg, Including Battery, Recording Media
Packaging Info
Package Weight
3.5 lb
Box Dimensions (LxWxH)
10.079 x 6.535 x 4.095"
Reviews
If you have any questions regarding this product feel free to call The Film Equipment Store where one of our experts will be happy to help. We are here for you.
We try to ensure we are giving our customers the best advice and best value on all our products however if you do see this product cheaper else where simply tell us and we will endeavor to match the price.