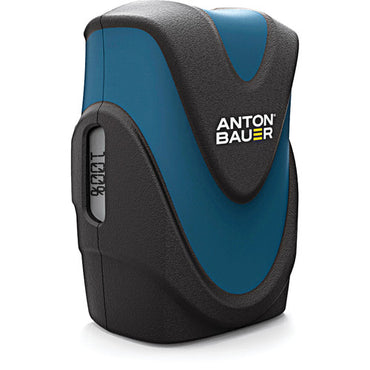 Anton Bauer Digital 150 V-Mount Battery (14.4V, 156 Wh) - The Film Equipment Store
Quick Overview
Anton Bauer Digital 150 V-Mount Battery (14.4V, 156 Wh) - The Film Equipment Store
Enlarged, Spacious Honeycomb Interior
Individually Wrapped, Isolated Cells
Increased Airflow & Heat Dissipation
1000 Charge / Discharge Cycles
Anti-Ringing Algorithm
Built-In Over-Current Sensors
Load Run-Time Display in Hours & Minutes
% Run-Time Display with No Load Attached
Ergonomic Design with Cushion Jacket
P-Tap Accessory Port


Detailed Description
The Anton Bauer Digital 150 V-Mount Battery (14.4V, 156 Wh), along with the rest of the Digital Battery Series, represents a major makeover for Anton Bauer, featuring a redesign in several aspects over previous series. The result is a long-lasting, sleek and ergonomic, smart, and safe series of batteries, projected for 1000 charge/discharge cycles. The Digital 90 runs on lithium-ion Sanyo cells which Anton Bauer has found to be highly reliable for them in the past. One of the major changes is a reconstruction of the honeycomb interior, built very spacious and housing the cells physically separated from one another, each individually wrapped in its own plastic case and isolated from the others. This ensures that any potential damage to one cell will have no effect on the others, huge for safety. The additional space in the honeycomb also serves to allow more airflow between the cells, effecting more heat dissipation, which will keep the cells cooler and protect them from ageing faster.
As another safety precaution, for instances of above average weather conditions, multiple sensors are built in that detect when the battery is too hot or too cold and trigger a shut down until the temperature is back to normal, at which point the battery automatically turns back on. Designed to the demands of broadcast and cinema digital cameras, the Digital Battery Series employs an algorithm that addresses the issue of "ringing" common to digital cameras. Where batteries are commonly susceptible to sporadic bursts of excess power draw, similar to how a car eats up more gas when the gas pedal is hit too hard, this algorithm smoothes out the power draw, in turn affording longer lasting, more predictable runs with a particular camera and overall longer life.
The Digital Battery Series is compatible with the concurrently released Performance Series of chargers and with all previous Anton Bauer chargers. Used with any of these chargers, via a feature that has become common to the Anton Bauer name, the Digital 90 exchanges certain digital data with the charger that allows the selection of the best charge routine possible for the battery's cell chemistry, maximising overall life. Via another familiar Anton Bauer feature, the Digital 90 applies a continuous and constant calibration that enables it to provide more and more accurate capacity and run-time calculations over the life of the battery. Run-time is usefully reported in hours and minutes on an easy-to-read LCD when power is being drawn, and as a percentage value when no load is attached. The reporting in hours and minutes will only get more and more precise with each use as a result of the constant calibration feature.
The aesthetics have also taken a redesign, with the body shaped ergonomically for a comfortable hold and modern look, and the outer jacket made of rubber that provides a good grip as well as a cushion against accidental drops. The case is made of high-impact polymer, which is the same material used in motorcycle helmets. A P-Tap output is available for powering accessories.
Key Features

Lithium-ion Sanyo cells housed isolated in a spacious honeycomb interior
Increased airflow and heat dissipation protects cells from aging faster
Multiple sensors trigger an automatic shutdown when the battery is too hot or cold
Addresses the issue of "ringing" with an algorithm that smoothes out the power draw
Compatible with Performance Series and previous model Anton Bauer chargers
Provides more and more accurate capacity and run-time calculations over the life of the battery
Reports run time in hours and minutes when power is drawn, and as a percentage when no load is attached
Ergonomically shaped; rubber outer jacket provides cushion against accidental drops
P-Tap accessory port



Anton Bauer 8675-0093 Specs
| | |
| --- | --- |
| Mount / Series Type | V-Mount |
| Chemistry | Lithium-Ion |
| Capacity (Wh) | 156 Wh |
| Output Voltage | 14.4 VDC |
| Maximum Load | 10 A |
| Accessory Port | 1 x D-Tap |
| Dimensions (W x H x D) | 3.3 x 6.5 x 4.4" / 84.0 x 165.0 x 112.0 mm |
| Weight | 2.6 lb / 1.2 kg |
Reviews
If you have any questions regarding this product feel free to call The Film Equipment Store where one of our experts will be happy to help. We are here for you.
We try to ensure we are giving our customers the best advice and best value on all our products however if you do see this product cheaper else where simply tell us and we will endeavor to match the price.