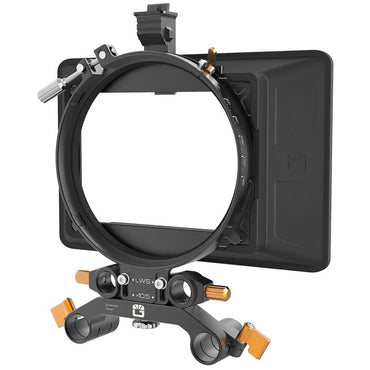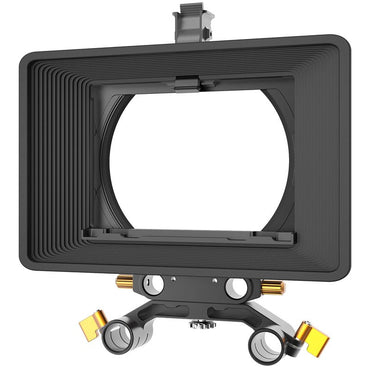 Bright Tangerine – CLASH 138 – 19MM STUDIO Matte Box KIT
Overview
Bright Tangerine – CLASH 138 – 19MM STUDIO Matte Box KIT
The Clash 138 is an ultra lightweight matte box that can accommodate up to two 4×4″ or 4×5.65″ filters. A third filter stage, supporting a single 138mm round filter can also be added using the Clash 138mm Rota Ring. This kit comes ready for 15mm LWS & 19mm Studio rod mounting.
Ultra-lightweight at only 284 grams (10oz)
Mount up to two 4×4″ or two 4×5.65″ & a single 138mm Circular filter
Removeable rubber sunshade
Supports +1 & +2 diopters
Round filter can rotate up to 120-degrees (Circular Polariser only requires 90-degrees)
143mm Diameter Clamp
15mm LWS & 19mm Studio rod mount
Adaptable to 15mm Studio rods



 Features
The Clash 138 is an ultra-lightweight matte box, weighing in at only 270 grams, it excels in run & gun setups, aerial shooting, gimbal and Steadicam work.
Like the Misfit Atom, the Clash 138 has been designed to accommodate up to two 4×4″, or 4×5.65″ PV sized filters (or a combination of both) within its frame. The Clash 138 also offers you the option of mounting a single 138mm circular filter, in addition to the two filters already in the frame.
138mm circular filters are mounted using the Clash 138 Rota Ring. Any standard 138mm circular filter from a number of popular manufacturers can be used including polarizers, diopters, split-diopters and FX filters like diffusion. Once mounted, the 138mm circular filter can easily be rotated up to 120 degrees by using the sliding lever on the Rota Ring. This range of motion is more than enough to effectively use a circular polariser, which only requires 90 degrees of rotation to achieve minimum to maximum effect.
Polarisers are a great tool to reduce glare from reflected surfaces and are recommended when shooting into water, through windows and landscapes as the effect can't be recreated in post production.
 
Diopters are also a great filter to have which are just like a magnifying glass. They also shift the minimal focus distance so you can get macro shots without having to use a macro lens. Diopters come in varying strengths with +1, +2 and +3 being the common strengths.
When using a +1 diopter, one additional 4×4" or 4×5.65" can be mounted into the frame. If you are using a +2 diopter, no additional filters can be mounted due to the thickness of the diopter. A +3 diopter can be used with the Clash 138 using the rubber bellows donut or Black Hole.
The circular filter is easily secured inside the Clash 138, with no risk of it falling out whilst filming. When no circular filter is being used, the Rota Ring can be removed to allow the matte box to clamp further onto the lens for a wider field of view.
The rubber sunshade provides protection from flares, and can be removed for an extra weight saving of 100 grams. This feature is also very useful when filming with drones, as it helps reduce wind resistance.
A carbon fibre top flag is also available to provide more protection from the sun or studio lights, helping improve the contrast and resolution of your image.
To minimise internal reflections, an optional tilt adaptor can be mounted on the Clash 138 matte box. This additional tilt bracket adds 6 degrees of tilt, for up to two filters.
The Clash 138 has a native 143mm Clamp-On mounting surface, which is also compatible with our clamp-on ring adapters, and rubber donuts, allowing for use with a variety of Cine and Photo lenses, including square front anamorphic and telescoping lenses. The clamping screw provides quick and easy mounting to secure the Clash onto the lens.
By using the rubber bellows or Black Hole donuts, you can add a second 138mm circular filter, converting the Clash 138 into a 4-Stage Matte Box.
The 15mm LWS & 19mm Studio support brackets for rod mounting are included in this kit.
Specifications
| | |
| --- | --- |
| Weight | 0.435 kg |
| Dimensions | 22.6 × 30 × 6 cm |
| Matte Box Compatability | |
| Rod Size | |
| Filter Size | |
Reviews
If you have any questions regarding this product feel free to call The Film Equipment Store where one of our experts will be happy to help. We are here for you.
We try to ensure we are giving our customers the best advice and best value on all our products however if you do see this product cheaper else where simply tell us and we will endeavor to match the price.