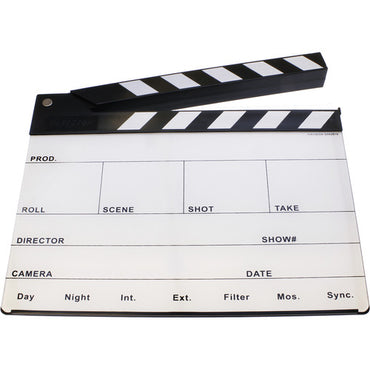 Cavision Next-Gen Painted Clapper Slate V2 (B&W)
Description
Sync picture and sound with this Next-Gen Painted Clapper Slate V2 from Cavision The black-and-white slate features a redesigned, painted slate surface made from ABS and acrylic for dry-erase marking. The clapper features a latch system that keeps the hinge closed without a magnet. There is also a resonance chamber within the clapper that provides a louder, crisper clap. On the back, a slot allows you to grasp the slate safely for carrying.
Three-dimensional ABS structure and reinforced slate for durability
Text printed inside acrylic for a suitable appearance
Single-bolt hinge design for smooth movement of the clapper sticks
Latch system to keep clapper sticks in closed position
Resonance chamber amplifies the clapper sound and makes it crisper
Slot on the back of the slate provides a convenient way to hold the slate during operation
Reviews
If you have any questions regarding this product feel free to call The Film Equipment Store where one of our experts will be happy to help. We are here for you.
We try to ensure we are giving our customers the best advice and best value on all our products however if you do see this product cheaper else where simply tell us and we will endeavor to match the price.