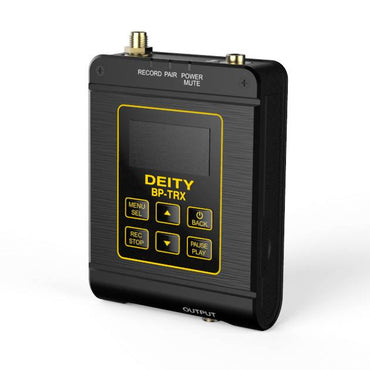 Description
The BP-TRX is technically a transceiver which means it can act as a traditional wireless microphone transmitter but also it can boot itself into a mode that allows it to act as a single channel wireless receiver. This makes the BP-TRX very unique as it can be anything you want it to be when you need it. Deity Microphones also added a stereo audio recorder and a TXCO timecode clock so the BP-TRX can operate as a standalone audio recorder or TX Box if need be. These features can also be combined with the transmitter or receiver boot modes to make the BP-TRX a utility knife forcapturing audio on a video set. When operating as a stand alone pocket audio recorder the battery life is 21Hrs, 3x the battery life of the next priced TC miniature audio recorder at ⅓ it'sprice.
Timecode
The BP-TRX can also be operated as a standalone TC Box. When doing so the unit turns off its 2.4Ghz radios and goes into a low power mode so it can operate for +25Hrs.

Transmit To Multiple Receivers
The BP-TRX allows you to set one unit as a Master Transmitter and transmit audio to 4 separate BP-TRX units.Combine multicasting with the frame accurate built in TXCO timecode clock and you've got the ideal kit for camera hops for an ENG or small video shoot.

Record Safely
We built the BP-TRX with three safeguards to help prevent you from losing your valuable recorded audio files. The first safeguard is a built-in battery. This eliminates the fear of sudden power failure from a battery door being opened. Secondly the BP-TRX can predict the internal lithium battery's power depletion curve so it knows when the battery is about to die, automatically saving the current recording before powering down the unit. Lastly we made it so that even if the power button is pressed in the middle of a recording the unit will stop the recording, save the file to the micro SD card, and then power down. Using the BP-TRX screen and button lock can prevent even this last type of user error.


Max Card Size – 128Gb
Card Type – microSD
Card Format – FAT32, exFAT
Max File Size – 2Gb; automatically keeps recording and creates new file
File Type – 24bit/48kHz Uncompressed BWF WAV File
Timecode – Int Free Run, Int Record Run, Ext Sync
Framerates – 23.976ND, 24ND, 25ND, 29.97ND, 29.97D, 30ND, 30D
Battery Life (In REC Only Mode) – 21Hrs
Reviews
If you have any questions regarding this product feel free to call The Film Equipment Store where one of our experts will be happy to help. We are here for you.
We try to ensure we are giving our customers the best advice and best value on all our products however if you do see this product cheaper else where simply tell us and we will endeavor to match the price.