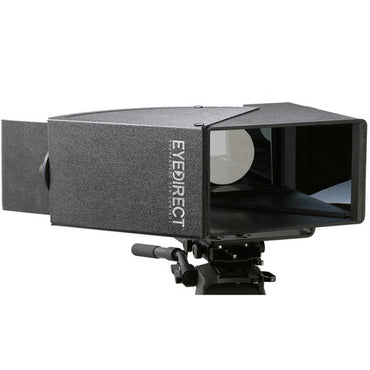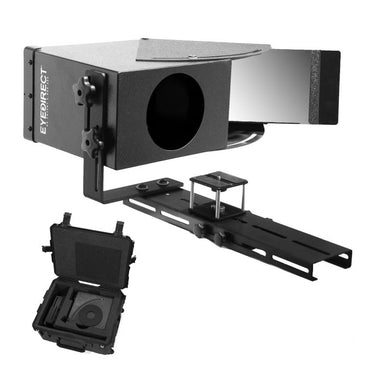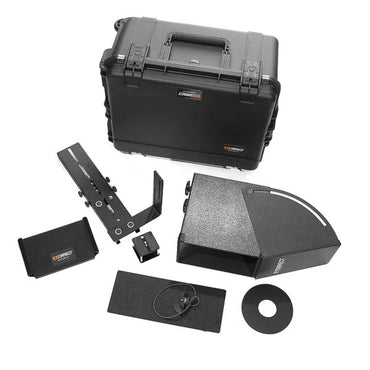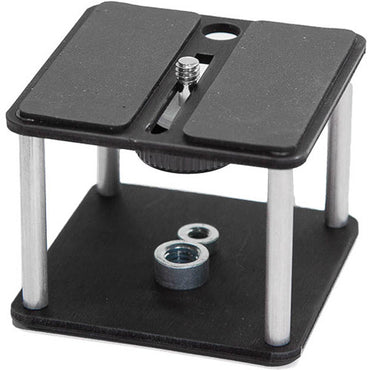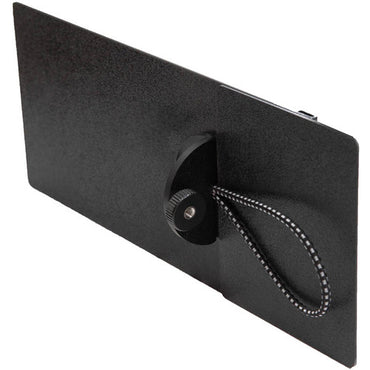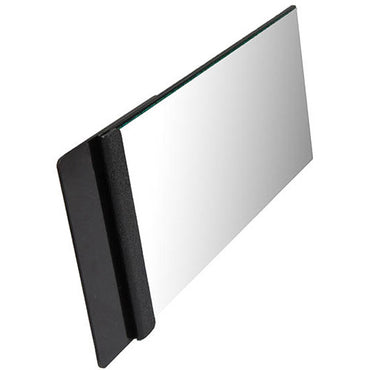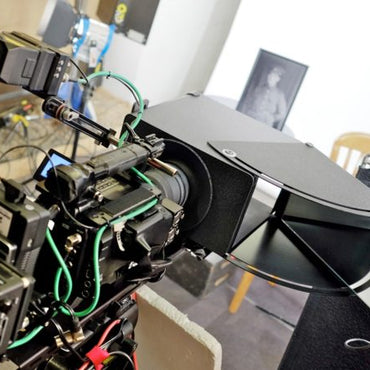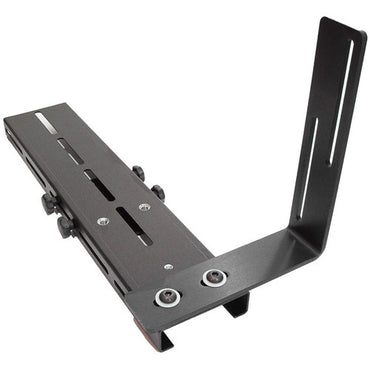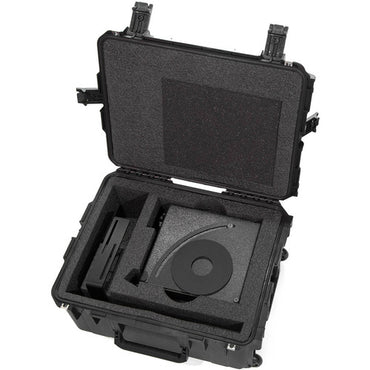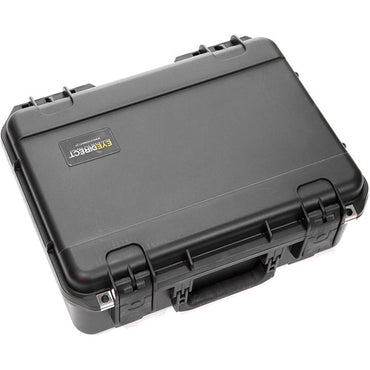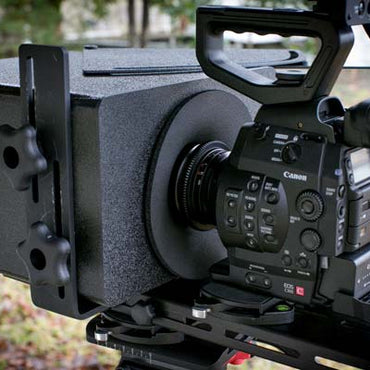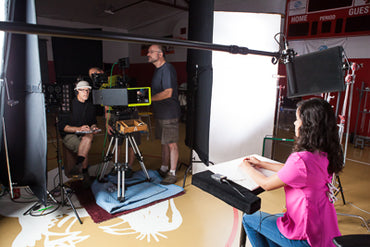 Eyedirect Mark II with Foam Fitted Rolling Case
Overview
Eyedirect Mark II with Foam Fitted Rolling Case
Product Highlights
Provides On-Camera Talent Eye Contact
50/50 Beamsplitter
For Mirrorless to Digital Cinema Cameras
Supports Small to Large Diameter Lenses
Can Be Used as Teleprompter
Custom Cut Foam in Rolling Case
A flexible way of maintaining the eye contact with on-camera talent/interview subjects with your camera, the EyeDirect Mark II is more than just a teleprompter that feeds your on-camera subject lines to read, it also provides a way for your on-camera subject to see a variety of different views/images, all the while looking directly at your camera. Suitable for use with cameras from DSLR or mirrorless up to full-size camcorders or digital cinema cameras with large lenses.
As a prompter, the Mark II supports iPads/tablets up to 7 x 10" and 3/8" thick (neither tablet nor prompting software is included). It features a 50/50 beamsplitter that allows the talent to see the text without it showing up on your image. Removing the iPad/tablet is where the design of the Mark II shines, as it allows your on-camera talent to look directly at the camera, yet see the face the interviewer behind the camera. You can also insert a picture or headline into your subject's eyeline without having them look off camera to see it.
The Mark II allows you set up with the interviewer behind the camera and off to either side, and still have the on-camera talent make eye contact with the interviewer. Plus, you no longer have to worry about the interviewer leaning into the shot. Your on-camera subject maintains focus and eye contact with the interviewer while looking directly into the lens, and thus making a strong connection with the audience
The unit can be set up so that the interviewer can sit on either side of the camera without changing the functionality of the unit. This allows you to frame and compose the shot as you normally would, without compromises
The wing features 40° of lateral adjustability and 35° of tilt adjustment. This allows the interviewer to find a comfortable position while maintaining eye contact with the on-camera subject
Removing the wing allows you to install the tablet accessory, which in turns enables the unit to be used as a teleprompter
The Mark II mounts on an 18" long plate that mounts onto your tripod. This allows you to balance your system using a variety of cameras from DSLR and Mirrorless to ENG or digital cinema cameras, as well as using prime or zoom lenses
Made primarily from ABS plastic the Mark II is a lightweight system that features a 50/50 beamsplitter and can be used as either as a teleprompter using the included tablet accessory, or an optical device that allows your subject to look at the interviewer (or other person) yet maintain eye contact with your camera's lens
The unit supports tablets from 5.5 x 9" to 7 x 10"
The Mark II features a 160mm opening on the back for lenses. It includes a rubber donut that can be used with lenses with an outside diameter from 52 to 80mm
An included DSLR riser block enables using DSLR or Mirrorless cameras
You can adjust the height of the unit approximately 4.5" to center it on your camera
Rolling Case for EyeDirect Mark II with Custom Cut Foam
This EyeDirect Rolling Case for the Mark II with Custom Cut Foam protects your gear from dirt, dust, impact, and water. Black in color, this case is constructed from ultra-high-strength polypropylene copolymer resin. It features trigger-release latches, holes for optional padlocks, gasket-seal, and a built-in purge valve. Carry the case with the large front and side handles. Travel over flat ground with the retractable extension handle and polyurethane, stainless steel ball bearing wheels.
Industrial-strength injection-molded pull handle
In-line skate style wheels for easy transport
TSA accepted key locking latches are available
Padlock holes include stainless steel padlock protector clips
Convenient padded dividers
Waterproof and dust-tight design (MIL-C-4150J)
Molded-in hinge for added protection
Trigger-release latch system
Snap-down rubber over-molded cushion grip handle
Ambient pressure equalization valve (MIL-STD-648C)
Resistant to UV, solvents, corrosion, fungus (MIL-STD-810F)
Resistant to impact damage (MIL-STD-810F)
In the Box
Bundle Items
Mark II
2 x Tie-Down Knobs for Vertical Adjustment
3/8"-16 Tie-Down Fastener
iPad/Tablet Conversion Accessory
Rolling Case for EyeDirect Mark II with Custom Cut Foam
Specifications
Rolling Case for EyeDirect Mark II with Custom Cut Foam

Material
Polypropylene copolymer resin
Type of Closure
Latch
Carrying/Transport Options
Handle, wheels
Interior Dimensions
22.00 x 17.00 12.75" / 55.88 x 43.18 x 32.39 cm
Lid depth: 2.0" / 5.08 cm
Base depth: 10.75" / 27.31 cm
Exterior Dimensions
Not specified by manufacturer
Weight
18.15 lb / 8.23 kg
Reviews
If you have any questions regarding this product feel free to call The Film Equipment Store where one of our experts will be happy to help. We are here for you.
We try to ensure we are giving our customers the best advice and best value on all our products however if you do see this product cheaper else where simply tell us and we will endeavor to match the price.