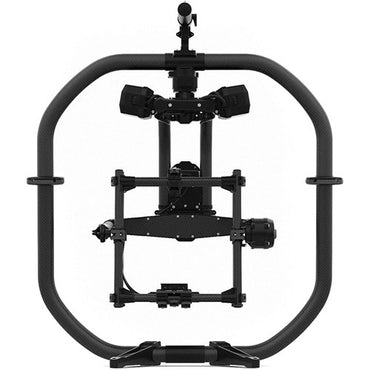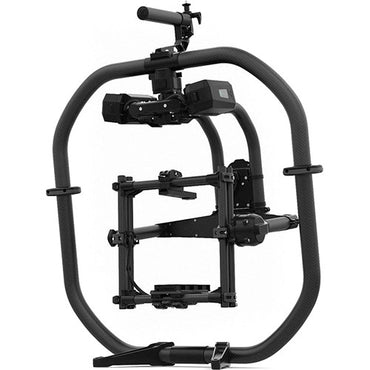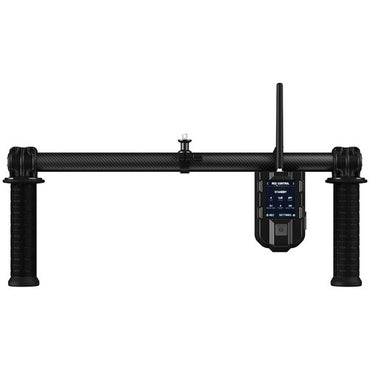 Freefly MōVI Pro Handheld Bundle
Overview
Freefly MōVI Pro Handheld Bundle
Get up and ready to shoot smooth handheld footage with FREEFLY's MōVI Pro Handheld Bundle. Consisting of the MōVI Pro motorized gimbal stabilizer, MōVI Ring Pro handle, and the MIMIC controller, this kit can perform in either single or dual-operator configurations.
The MōVI Pro motorized gimbal stabilizer steadies cameras weighing up to 15 pounds, rendering it compatible with mirrorless cameras all the way up to smaller cinema cameras. With the included batteries, the camera and essential accessories can be powered without adding any bulk to the MōVI Pro.
By offering a unified design, the MōVI Ring Pro lets the camera operator grip the attached MōVI Pro from nearly any angle. Since the design also goes above and below the stabilizer itself, high and low shots are easily accomplished with minimal stretching on the part of the camera operator.
For dual-operator configurations, the MIMIC syncs with the MōVI Pro, allowing one operator to control the camera movements while a second operator moves the camera rig. The MIMIC has Bluetooth and 2.4 GHz radios built-in for device and accessory communication. Additional control can be achieved with the included Bush Pilot Auxiliary Control Knob. When connected to the MIMIC, the Bush Pilot can actuate focus, zoom, or iris, depending on how you have it set up.
MōVI Pro Digital 3-Axis Camera Stabilizer
Innovative structural design for ease of use, convenience, strength, and versatility
Dual hot-swappable 22.5V 1.8Ah batteries with status indicators
Integrated focus/iris/zoom controller
Embedded screen for tuning/customization
Increased motor torque over previous generation stabilizers
D-Tap outputs for camera and accessory power
Full stiffness and filter auto-tune in approximately 10 seconds
Compatible with MōVI Pro applications for iOS and Android
Majestic mode
Time-lapse
Dual GPS (top and bottom) for solid signal in Sky or GroundView
Full RED RCP integration (focus, iris, ISO, start/stop, and more)
Internal long range 2.4 GHz frequency hopping radio for connection to MIMIC
Compatible with separately available Low Profile Handle and Classic Handle
MōVI Ring Pro
30mm lightweight carbon fiber tubing
Adjustable/removable handstops
Fiber-reinforced molded plastic feet
One-hand adjustable quick release monitor mount
Removable top handle
MIMIC
Integrated battery with six-hour runtime
Integrated LCD
Long-range wireless operation
USB and Bluetooth connectivity
Quick release and 1/4"-20 mounting options
SD card slot
COM expansion ports
Bush Pilot Auxiliary Control Knob
Controls focus, iris, or zoom through the MIMIC
High-resolution encoder for precise adjustments
Integrated hard stops
Features
3-Axis Motorized Gimbal Stabilizer
For Cameras & Rigs up to 15 lb
Keeps Horizon Level & Counteracts Drift
MōVI Ring Pro Handle
360° Handling Possibilities
MIMIC Remote Control with Bush Pilot
Includes 2 x Pro Batteries
Batteries Power Stabilizer & Camera



Specifications
Cage
Dimensions: 7.7 x 7.8 x 6.5" / 19.6 x 20 x 16.5 cm
Maximum Payload: 15 lb / 6.8 kg
Power
1 x 12-14 VDC, 6 A D-Tap
1 x 12 VDC, 2 A D-Tap
Radio Frequency
2.4 GHz Frequency-Hopping Radio
Weight
5.8 lb / 2.7 kg
Packaging Info
Package Weight
23.0 lb
Box Dimensions (LxWxH)
26.75 x 26.3 x 16.7"
Reviews
If you have any questions regarding this product feel free to call The Film Equipment Store where one of our experts will be happy to help. We are here for you.
We try to ensure we are giving our customers the best advice and best value on all our products however if you do see this product cheaper else where simply tell us and we will endeavor to match the price.