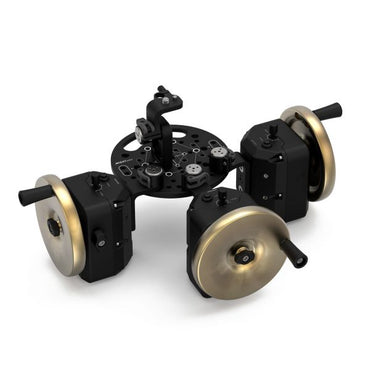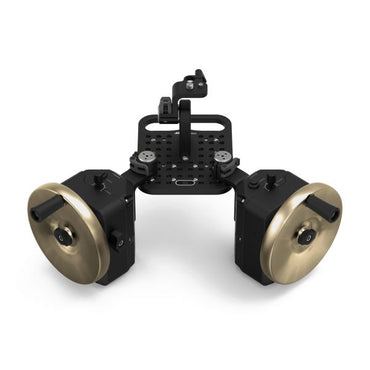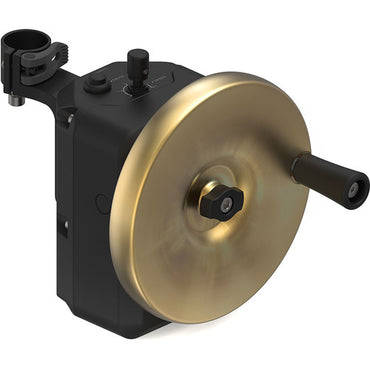 FREEFLY MōVI Wheels 1-3 Axis Module (Brass)
Overview
FREEFLY MōVI Wheels 1-3 Axis Module (Brass)
Freefly MōVI Wheels

With the new Freefly Wheels system, the combination of cutting edge cinema robots with classic controls has been simplified.

Personalize your Setup

MoVI Wheels feature a modular, adjustable mounting system that allows the user to quickly position each wheel module for maximum comfort. Easily adjust wheel friction, gear ratios, and toggle wheel modules on the fly.

Precision meets Simplicity

MoVI Wheels are optimized to work seamlessly with the MoVI ecosystem. When you switch to wheels control, MoVI parameters automatically adjust to give the most connected, precise and repeatable feel possible.

Expandable Architecture

MoVI Wheels feature a high-speed CAN network that allows you to add up to 9 modules to the system—control Pan / Tilt / Roll / Focus / Iris / Zoom as well as just about any future control input in our robotics ecosystem.

 

Notes

Software to support MIMIC compatibility will be available by the end of November. All necessary hardware will be included with your order.

Specifications

Performance

Long range wireless control >1mile
High speed plug n play CAN network
Break single wheel off, or setup with multiple for complex system
Compatible with entire Freefly Ecosystem (Requires Movi Controller, or MIMIC)

Mechanical

Robust machined enclosures
Versatile and adjustable mounting options
25mm tool less adjustable mounting post
Integrated Rosette mounting option
Wheel position can be fine tuned for user preference
Friction lock allows user to define wheel friction / lock out wheel

Input

CAN
USB C
UART (5V)
Gear Ratio Potentiometer
On/Off Button

Output

CAN (12v)
USB C
UART
Tri color LED

Sensors

16 bit magnetic encoder is robust, precise, and compact

Expandability

Daisy chain up to 9 modules (including pilot modules)

Software

Tuned to optimally control MoVI product line
User updatable firmware via internal mass storage drive

Usability

Quickly control wheel direction, gearing, or kill wheel
Designed for minimum latency
Absolute position control of MoVI pointing
Easily assign any wheel to any axis regardless of its connection
Mix wheels and pilot modules for maximum flexibility

Compatible with

Mimic
MoVI Controller
Pilot

Controls

MoVI Pro
MoVI XL
MoVI Carbon
M5 / M10 / M15

Included:

MoVI Wheels (1 axis)

MoVI Wheel Module (1)
Quick Release 25mm Post
1/4-20 Socket Head Cap Screw (2)
CAN Cable (250mm)
MoVI Controller to Wheel UART Cable (500mm)
MIMIC to Wheel UART Cable (300mm)
USB A to USB C Cable (1m)
USB C to USB C Cable (1m)

MoVI Wheels (2 axis)

MoVI Wheel Module (2)
Cheeseplate with MoVI Controller Mount Bracket
Quick Release 25mm Post (2)
1/4-20 Socket Head Cap Screw (4)
CAN Cable (250mm)
MoVI Controller to Wheel UART Cable (500mm)
MIMIC to Wheel UART Cable (300mm)
USB A to USB C Cable (1m)
USB C to USB C Cable (1m)
4mm Driver
3/16" Driver

MoVI Wheels (3 axis)

Includes all items listed for MoVI Wheels (1 axis) and MoVI Wheels (2 axis).
Features
For MōVI M5, M10 & M15
For MōVI Pro, XL & Carbon
Daisy-Chain up to 9 x Wheel Modules
Control Gimbal Pan, Tilt, or Roll
Control Camera Focus, Iris, or Zoom
Mounts via 1" Post or Rosette
Parameters Auto Adjust to Wheels Control
Adjustable Friction, Gear Ratio, Toggles
High-Speed Plug-and-Play CAN Network


Specifications
Interface
Input
CAN
USB C
UART (5 V)
Speed knob
Pause button
Output
CAN (12 V)
USB C
UART
Tricolor LED
Encoder
Encoders
16-bit, magnetic
Expansion Options
Daisy Chain Capability
Maximum Modules: x 9
General
Mounting Post Width
1" / 25 mm
Wheel
Brass
Dimensions and Weight
Not specified by manufacturer
Packaging Info
Package Weight
7.92 lb
Box Dimensions (LxWxH)
8.8 x 8.4 x 8.3"
Reviews
If you have any questions regarding this product feel free to call The Film Equipment Store where one of our experts will be happy to help. We are here for you.
We try to ensure we are giving our customers the best advice and best value on all our products however if you do see this product cheaper else where simply tell us and we will endeavor to match the price.