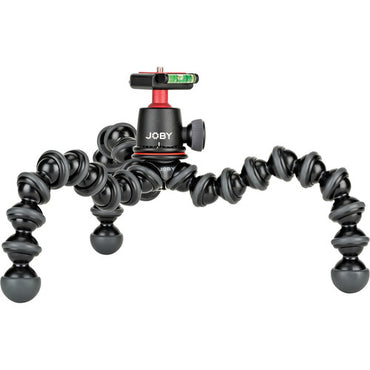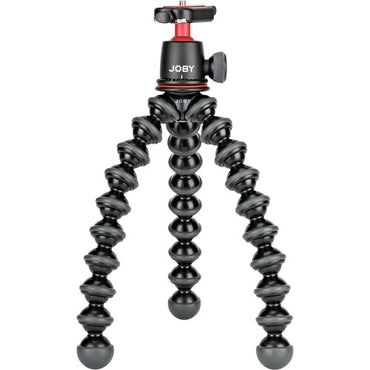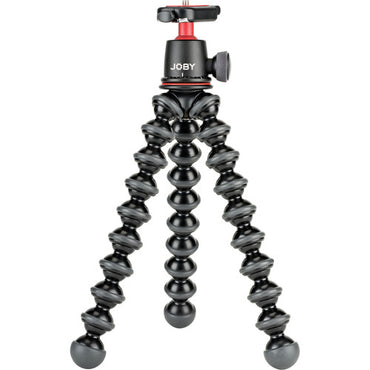 Joby GorillaPod 3K Flexible Mini-Tripod with Ball Head Kit
Description
Joby GorillaPod 3K Flexible Mini-Tripod with Ball Head Kit
The GorillaPod 3K Flexible Mini-Tripod with Ball Head Kit from Joby pairs the GorillaPod 3K stand with the BallHead 3K to form a flexible and versatile support system. With the ball head, you can precisely control the direction and angle of your equipment and quickly attach it and detach it thanks to the inclusion of a quick release plate. This kit is ideal for mid-sized DSLRs, mirrorless cameras, speedlights, or any other gear weighing up to 6.6 lb.
GorillaPod 3K Flexible Mini-Tripod


Boasting remarkable versatility for supporting your gear, the GorillaPod 3K Flexible Mini-Tripod from Joby has legs made up of several joints that allow you to wrap it around objects and adapt it for use in uneven ground. With a load capacity of 6.6 lb, it can reliably hold most mirrorless cameras, mid-sized DSLRs, and portable lights. The notably compact construction of the tripod, featuring a 9.4" height and 8.7 oz weight, makes it easy to store or carry it while travelling.
To help improve its grip and stability on unstable surfaces, the joints and feet of the GorillaPod 3K are rubberized in certain areas. The rest of the tripod is made of stainless steel and a proprietary ABS plastic designed to provide durability and stable performance. Featuring a 3/8"-16 thread adapter at the top which can be removed to reveal a 1/4"-20 screw, the stand can be used directly with your gear or attached to an optional ball head for further shooting capabilities.
Can be used with cameras, lights, speakers, and any other gear weighing up to 6.6 lb that is compatible with 1/4"-20 or 3/8"-16 screw threads
Flexible jointed legs allow you to secure your equipment to most surfaces
Compact with a weight of 8.7 oz and height of 9.4", can be transported in a small bag or easily carried in your hands or pocket
Rubberized joint rings and feet to provide enhanced stability in difficult terrain
Durable stainless steel and ABS plastic construction
UPC: 817024015107
BallHead 3K

Supporting equipment weighing up to 6.6 lb, the BallHead 3K from Joby uses a standard 1/4"-20 threaded screw to mount compatible DSLRs, mirrorless cameras, and video lights. It features full 360° panning and 90° tilting for nearly unrestricted movement, complemented by a small bubble level to help you find the ideal position. For convenience, you can swiftly detach your gear from your tripod thanks to the quick release mounting plate of this ball head.

At only 5.1 oz and with a height of 2.8", the BallHead 3K is portable and can be easily carried without weighing you down. It is designed to be paired with the GorillaPod 3K stand and works with several Joby pro-level accessories that can extend the versatility of your ball head. However, it can also be used on any standard tripod with a 1/4"-20 mount.

Standard 1/4"-20 screw for attaching equipment weighing up to 6.6 lb
360° panning and 90° tilt for optimal position control
Quick release plate makes for a fast and convenient setup
Bubble level helps ensure precise camera alignment and orientation
Portable design weighing only 5.1 oz and with a height of 2.8"
Works with Joby pro-level accessories such as the GripTight PRO Mounts and GorillaPod Arms that allow you to use GoPro adapters, flash clips, and microphones
Can be deployed on the GorillaPod 3K stand or any other tripod with a standard 1/4"-20 mount
Specifications
BallHead 3K

General
Head Type
Ball Head
Base Mount
1/4"-20 Thread
Load Capacity
6.6 lb / 3 kg
Number of Bubble Levels
1
Independent Pan Lock
No
Material
ABS Plastic, Aluminum, Stainless Steel, TPE

Physical
Dimensions
H: 2.8 x W: 2.6 x L: 2.4" / H: 7.0 x W: 6.5 x L: 6.0 cm
Weight
5.1 oz / 144.0 g

Packaging Info
Box Dimensions (LxWxH)
Reviews
If you have any questions regarding this product feel free to call The Film Equipment Store where one of our experts will be happy to help. We are here for you.
We try to ensure we are giving our customers the best advice and best value on all our products however if you do see this product cheaper else where simply tell us and we will endeavor to match the price.