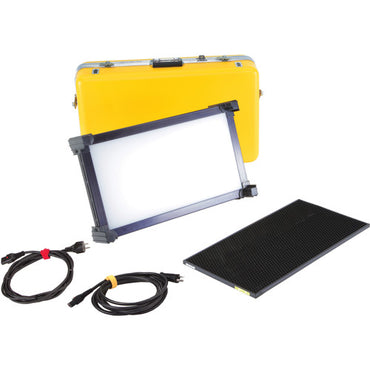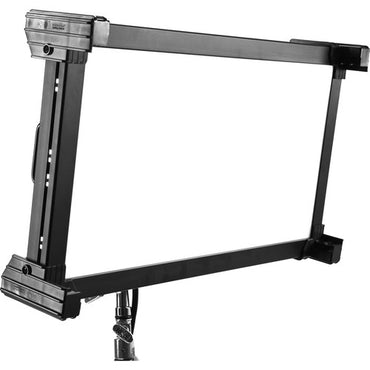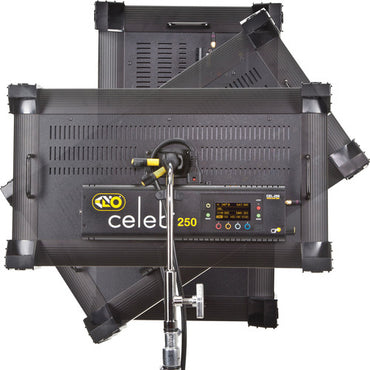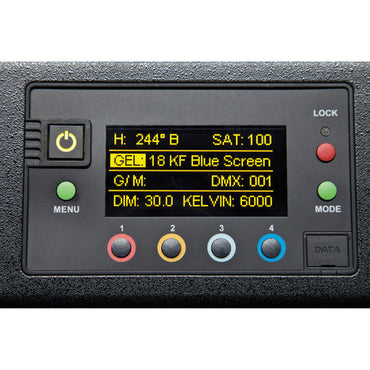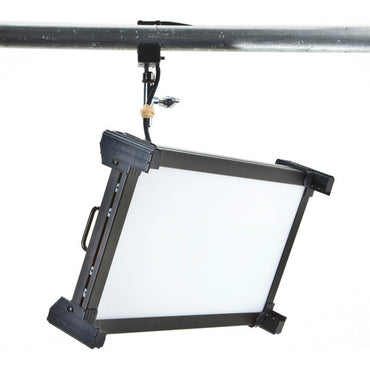 Kino Flo Celeb 250 DMX LED Fixture with Center Mount Kit with Flight Case
Overview
Kino Flo 250 LED DMX Overview
The Celeb 250 DMX LED Fixture with Center Mount Kit with Flight Case was put together by Kino Flo for image-makers who need to take this variable color temperature, DMX-capable fixture on the road. The kit includes a Center Mount Celeb 250 DMX LED Fixture with a 90-degree honeycomb grid and a hard flight case. This version of the light has a center mount that includes a ball and socket design and lock down knob and a 5/8" receiver. It allows unrestricted 360° orientation.
Celeb 250 DMX LED Fixture with Center Mount

Flexibility and extensive control options are key to the production of the Celeb 250 DMX Center Mount LED Fixture from Kino Flo. The 24 x 14 x 5" panel uses three menus with features that can be controlled on the light, via traditional wired DMX or by Lumen Radio wireless DMX. The White menu allows control of 1-100% dimming, color control from 2700-6500K, and Green/Magenta control. There are two Color menus. The first offers an extended color range from 2500-9900K. It's got a channel called "Gel" that offers multiple presets for light conditions such as mercury-vapor and 100 often used gel filters. There are also channels for Hue Angle and Saturation that work together in selecting a specific color and determining the intensity of it. The second color menu provides RGB (Red, Green, Blue) control to permit a user-selected combination to obtain any color in the visible spectrum. The Celeb 250 DMX is ready for worldwide use thanks to its 100-240 VAC power supply. The light comes with a 90-degree honeycomb grid to tighten its light beam and limit spill light. This version of the light has a center mount that includes a ball and socket design and lock-down knob. It allows unrestricted 360° orientation and has a 5/8" receceiver.

Kelvin presets
Dial-in color temperature control between 2700K-6500K
Extended color palette from 2500-9900K
Green/magenta control
Hue angle and saturation adjustments
RGB control
Works with apps with predetermined RGB presets or color wheels
Can use preset buttons to store custom Kelvin settings
Light levels do not change when selecting Kelvin settings
No color shift while dimming
Color-correct with high color rendering index (CRI 95)
Universal input 100-240 VAC or 24 VDC
Energy efficient; draws 1.2A, 120 VAC and 6.25A, 24 VDC
Flicker-free, quiet operation
Full range onboard and DMX dimming
DMX wireless link (Lumen Radio)
DMX auto terminate
Fixture includes removable 90° honeycomb louver
60° honeycomb louver also available separately
Lightweight at 15 lb
Slim profile with dimensions of 24 x 14 x 5"
Accessory molded corners also used for four-point rope hang

Photometrics

185 fc at 4.0' (1.2 m)

 


48 fc at 8.0' (2.4 m)

 


12 fc at 16' (4.9 m)

 



2990 lux at 3.3' (1.0 m)
763 lux at 6.6' (2.0 m)
198 lux at 13.0' (4.0 m)

KAS-CE2 Flight Case (Yellow)

The yellow Kino Flo KAS-CE2 Flight Case is designed for use with the Celeb 200 LED lighting system. A versatile case it closes with latches and has a top handle. The clamshell case holds one Celeb center mount fixture and an additional louver. This case is a good choice for local travel such as in small vehicle or production truck.



Product Highlights

1 x Celeb 250 Panel, 1 x Grid
1 x Flight Case
24 x 14 x 5" Panel
Variable Color Temperature: 2700-6500K
Extended Range: 2500-9900K
CRI: 95, Multiple Color Presets
Hue, Saturation and RGB Control
On-Board & DMX Dimming from 1-100%
Built-In Wireless Lumen Radio DMX
100-240 VAC Power Supply
Specification
Input Voltage
100-240 VAC, 50/60 Hz, 145 W, 1.2 A
240-100 VAC, 50/60 Hz, 143 W, 0.7 A
18-36 VDC, 150 W
Color Temperature
White Menu: 2700-6500K
Color Menu: 2500-9900K
DMX
Yes, via cable or onboard wireless Lumen Radio
Color Controls
Kelvin temperature
Color presets such as blue or green screen
Hue Angle
Saturation
RGB control
Dimming Range
100-1%
Dimensions
24 x 14 x 5.0" / 61 X 35.5 x 12.7 cm
Weight
15 lb / 6.8 kg

Packaging Info
Box Dimensions (LxWxH)
31.2 x 18.1 x 10.0"

20.0 x 12.0 x 2.0"
Reviews
If you have any questions regarding this product feel free to call The Film Equipment Store where one of our experts will be happy to help. We are here for you.
We try to ensure we are giving our customers the best advice and best value on all our products however if you do see this product cheaper else where simply tell us and we will endeavor to match the price.