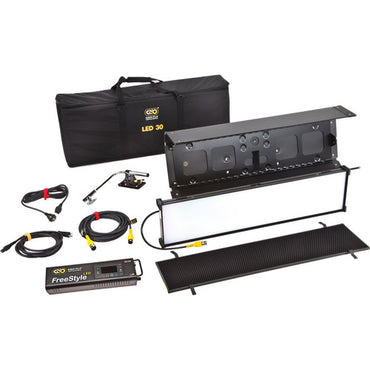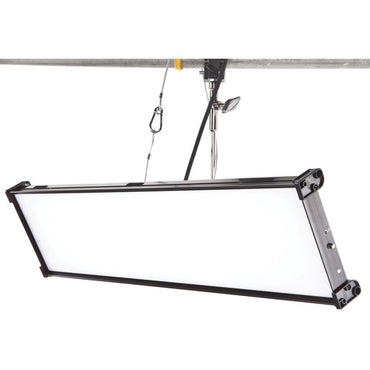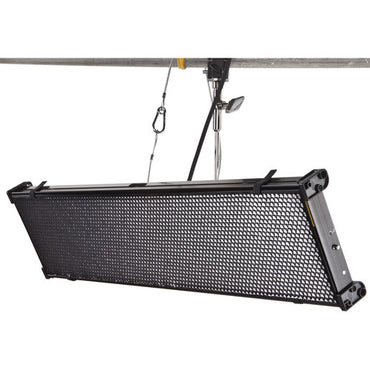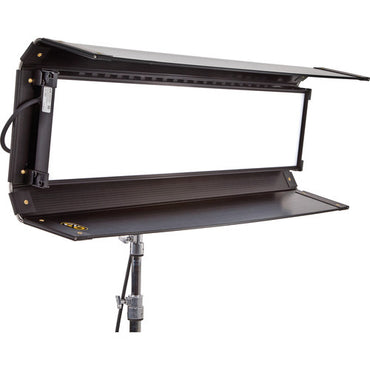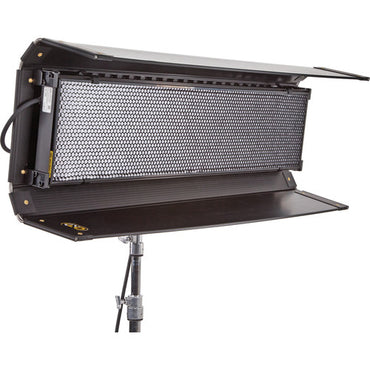 Kino Flo FreeStyle 31 LED DMX Kit with Soft Case
Overview
Flexibility and comprehensive control options are key to the production of the Center Mount Diva-Lite 41 LED DMX Panel from Kino Flo. The 39 x 10.5 x 6" panel uses three menus with features that can be controlled on the light via traditional wired DMX or by Lumen Radio wireless DMX with separate purchase of a Lumen transmitter. The White menu allows control of 1-100% dimming, color control from 2700-6500K, and Green/Magenta control.
There are two Color menus. The first offers an extended color range from 2500-9900K and includes a channel called "Gel" that offers multiple presets for light conditions such as mercury-vapor and 100 often used gel filters. There are also channels for Hue Angle and Saturation that work together by selecting a specific color and determining the intensity of it. The second color menu provides RGB (Red, Green, Blue) control to permit a user-selected combination to obtain any color in the visible spectrum. The Diva-Lite 41 is ready for worldwide use thanks to its 100-240 VAC power supply. The light comes with a 90-degree honeycomb grid to tighten its light beam and limit spill light. A 60-degree grid is available as an option. Both 120U and 230U power cords are included for maximum flexibility. This version of the Diva-Lite 41 has a Center Mount that allows the fixture to spin 360 degrees to produce a wide range of desired angles.
Specification
FreeStyle 31 LED Fixture

Color Range
With Required Controller:
Standard Range: 2700 to 6500K
Extended Range: 2500 to 9900K
CRI
96
Operating Voltage
100 to 240 VAC, 50/60 Hz (with optional controller)
Dimming
100 to 0% (with optional controller)
Photometrics
Footcandles
510 fc at 2.0' / 0.6 m

 


161 fc at 4.0' / 1.2 m)
75 fc at 6.0' / 1.8 m
43 fc at 8.0' / 2.4 m
28 fc at 10' / 3.0 m

 


Lux
7270 lux at 1.6' / 0.5 m
2470 lux at 3.3' / 1.0 m
1190 lux at 4.9' / 1.5 m
683 lux at 6.5' / 2.0 m
445 lux at 8.2' / 2.5 m
Mount
Optional 3/8" pin, Baby receiver, offset Baby receiver
Dimensions
40.5 x 10.5 x 3.5" / 103 x 28 x 9.0 cm (with 6.5" / 16.5 cm barndoors)
Weight
15 lb / 7.0 kg

Packaging Info
Box Dimensions (LxWxH)
47.0 x 18.0 x 11.0"

LED Controller for Kino Flo Select 20 and 30 Fixtures

Power
VAC: 100 to 240 V @ 50/60 Hz, 150 W
VDC: 18 to 36 V, 150 W
1.3 A @ 120 VAC, 7.0 A at 24 VDC
Color Temperature
2700 to 6500K in White Menu
2500 to 9900K in Color Menu
Dimming
100 - 1%
Dimensions
15 x 4.5 x 3.0" (38 x 11.5 x 8.0 cm)
Weight
4.5 lb (2.0 kg)

Packaging Info
Box Dimensions (LxWxH)
16.9 x 7.1 x 3.9"
Reviews
If you have any questions regarding this product feel free to call The Film Equipment Store where one of our experts will be happy to help. We are here for you.
We try to ensure we are giving our customers the best advice and best value on all our products however if you do see this product cheaper else where simply tell us and we will endeavor to match the price.