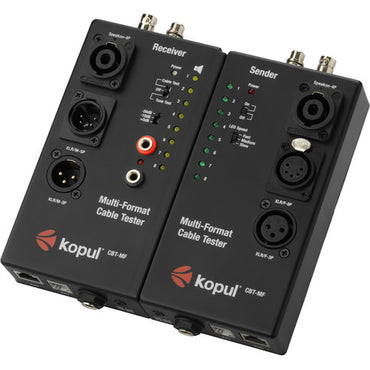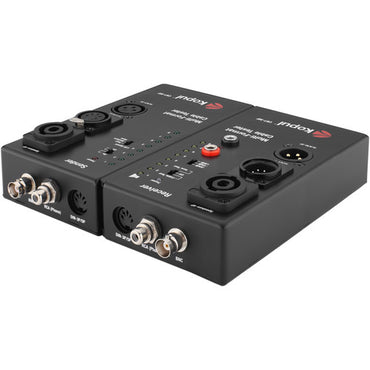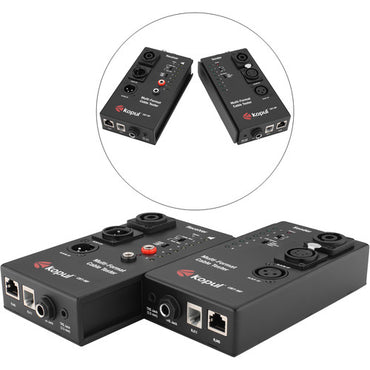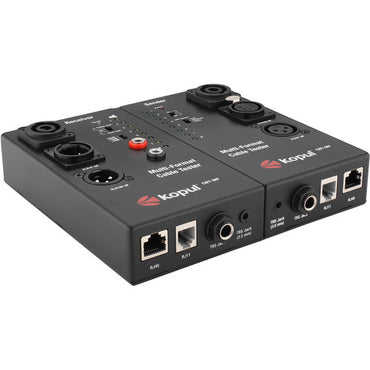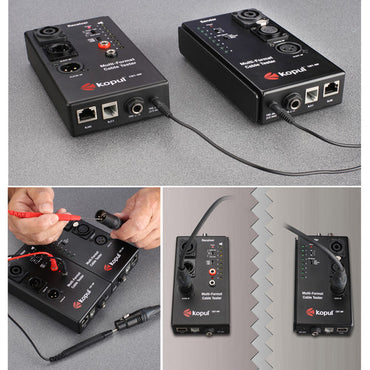 Kopul CBT-MF Multi-Function Cable Tester with Dual Chassis
Description
The Kopul CBT-MF is a professional-quality cable tester with a split-chassis design that allows users to test the continuity of a wide variety of cables with a single device. It quickly identifies connectivity and ground problems in some of the most frequently-used cables, and makes troubleshooting audio and studio setups fast and effortless.
The split chassis allows users to separate the two halves of the CBT-MF. This feature provides an easy way to test the continuity of long cables that have been run through walls or ceilings as well as cables that have been put into audio or home theater installations. LED indicators and tones verify that each pin on the cable is properly connected. For additional functionality, the CBT-FM generates a test tone, great for troubleshooting a variety of connections.
The CBT-MF can test cables with any combination of Speakon 4-pin, XLR 3-pin, XLR 5-pin, TRS, DIN 3-pin/5-pin, RCA, RJ45, RJ11, BNC, or TRS 3.5mm connectors. Two removable leads are included for testing any kind of wire or cable with jacks that are not included on this model. They also allow for testing connections when building or repairing cables or when wiring studios or audio installations.
The CBT-MF is ideal for home, project, and professional studio use. Constructed with lightweight and durable plastic, the CBT-MF is a road-ready tool for studio techs and install engineers.
Tests Cable Continuity
Provides easy and simple continuity testing for cables with any combination of Speakon 4-pin, XLR 3-pin, XLR 5-pin, RCA, DIN 3-pin, DIN 5-pin, TRS, RJ45, RJ11, BNC, and TRS (3.5 mm) plugs
Detachable Chassis
Detachable dual chassis simplifies the testing of long cable runs and cables previously wired into audio or home theater installations
Tone Generator
Built-in tone generator with 0 dB, -10 dB, and -50 dB amplitude selector
Checks Each Pin Separately
Automatically tests each pin in the cable. Flashing LEDs and repeating tone indicate continuity for each pin
Status LEDs
The first three LEDs light up in sequence indicating that batteries are installed in both battery compartments
Removable Leads
Two removable leads included to verify continuity of additional connectors

Durable Build Quality
Lightweight and rugged construction for extended use in studio and other installation projects
Battery Powered
Operates on two 9-volt batteries (not included)
Reviews
If you have any questions regarding this product feel free to call The Film Equipment Store where one of our experts will be happy to help. We are here for you.
We try to ensure we are giving our customers the best advice and best value on all our products however if you do see this product cheaper else where simply tell us and we will endeavor to match the price.