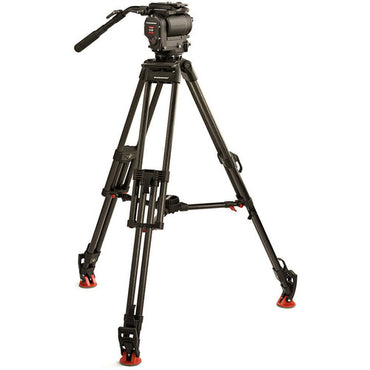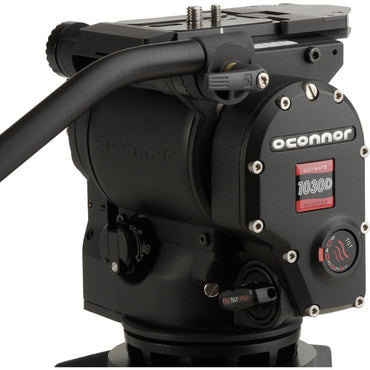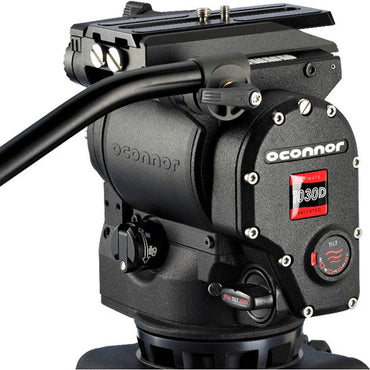 OConnor Ultimate 1030D Fluid Head & 30L CF Tripod
Description
OConnor Ultimate 1030D Fluid Head & 30L CF Tripod with Mid-Level Spreader & Case
The 
Ultimate 1030D Fluid Head & 30L Tripod System
 from 
OConnor
 is a package comprising of the Ultimate 1030D fluid head, 30L carbon fiber tripod, mid-level spreader, set of rubber feet, and soft carrying case. The fluid head supports up to 30 lb at 6" center of gravity with a ±90° tilt range. Without the head attached, the carbon fiber tripod adjusts from 22 to 61.8" and folds down to 29.5" for storage and transport. The tripod on its own can support payloads up to 209 lb. The mid-level spreader and rubber feet hold the tripod legs in position, providing rigidity and stability to the overall system. The tripod system packs into the soft carrying case for easy transportation.



Detailed Description
Ultimate 1030D Fluid Head

The Oconnor Ultimate 1030D Fluid Head Is a lightweight fluid head that shares features with the other fluid heads in the OConnor Ultimate fluid head line. This allows operators to easily transition between lighter and heavier cameras without having to relearn think about the differences between fluid heads. The head supports 30 pounds worth of camera and accessories at a C.O.G. (center of gravity) 6 inches above the camera platform. The counterbalance system helps prevent the camera from tilting forward or back on the head on its own, and to remain in the position the operator places it without requiring additional effort to hold it in place. The counterbalance system on the 1030D is a stepless system, so it is continuously variable from the maximum weight the head can support all the way down to zero. This makes the 1030D extremely versatile, and suitable for use with heavy ENG style cameras all the way down to lightweight cameras, while maintaining the same operational feel.

The 1030D features interchangeable camera platforms, and comes with a sidelock platform and sliding baseplate as standard. The sidelock platform allows you to mount and remove the camera by lifting straight off the head and not having to slide it in from the back. The fluid head is able to tilt 90 degrees forward and back, allowing you to tilt the camera straight down and then straight up, all in the same shot. The camera also features independent drag controls and locks for both the pan and tilt. The included 100mm ball base is removable and can be replaced with other available bases. The head features an integrated bubble level for quick leveling confirmation, and the level is illuminated for times you are working in dim light conditions. The included pan handle can be attached to either side of the the fluid head utilizing the mounting rosette on either side of the head. The 1030D also features standard front box mounting points compatible with available front box brackets, and provisions for attaching an eyepiece leveler or other attachments to the head.

Payload & Counterbalance

The 1030D supports cameras and accessories up to 30 pounds at a C.O.G. of 6 inches. This is what the counterbalance can cancel out and keep the head neutral in any position in the tilt range. Lighter camera systems can be mounted with a taller C.O.G., while heavier camera systems are required to be mounted closer to the fluid head's camera platform so that the counterbalance can do its job. OConnor specs out 24 pounds at a C.O.G. above platform of 8 inches and 39 pounds at 4 inches. These are the maximum weights, and the stepless counterbalance can be set all the way down to zero to accommodate lightweight cameras.

Camera Platform

The included springloaded sideload camera platform allows you to more easily insert and remove the camera when mounted on a the sliding baseplate, similar to what is available with touch and go plates. However with the sideload platform you get the advantages of a touch and go quick release system, while still being able to use the base plate to balance the camera. Additional the sideload camera platform includes its own forward and back sliding adjustment. This provides you with additional balancing adjustment than just using the sliding baseplate alone.

Tilt Range

The 1030D provides 90 degrees of forward and back tilt, while supporting camera packages weighing up to 30 pounds (6" C.O.G.) This very wide tilt range is accomplished while supporting camera packages that vary from very lightweight up to 30 pounds.

Pan and Tilt Controls

The head features independent controls on the pan and tilt for lock and drag. The pan and tilt locks are easy to operate, requiring only the squeeze of a single hand. The pan lock has also been re-designed from earlier versions of the 1030 fluid head, and now matches the arrangement found on other heads in the Ultimate fluid head line.

Ball Leveling

The included 100mm ball base provides a side support base that easily accommodates the heavy loads this fluid head can support. The ball allows you to quickly level your shot without having to adjust the tripod legs. The ball base is also removable and available options include either a Mitchell base or 150mm ball base.

Illuminated Bubble Level

The built-in bubble level aids you in leveling your shot. A press of the button, and the bubble level will light up for approximately 25 seconds for working in dim lighting conditions. The battery is easily replaceable, and the head comes with a battery installed and tested at the factory.

Front Box & Accessory Mounting

The included front box mounting points allow you to attach an available front box with front box bracket to your fluid head, providing you with high end accessory mounting features. There are also accessory mounting points on the rear of the fluid head that allow you to attach available accessories such as an eyepiece leveler bracket.

30L Two-Stage Carbon Fiber Tripod Legs (100mm Bowl, Standard)

The OConnor 30L Two-Stage Carbon Fiber Tripod is designed to work with tripod heads that have a 100mm ball, such as OConnor's 1030D and 1030Ds. The legs weigh just under 9 pounds, yet can support a payload of up to 209 pounds, and extend from a minimum height of 22" to a maximum height of 62" when using a mid-level spreader (available separately).

Each leg extends or retracts independently, and when detached from a spreader each leg can pivot without affecting the other legs. This is especially useful when working on rough or uneven terrain. The dual spikes at the end of each leg provide extra grip when working on softer ground.

The OConnor 30L's legs feature lever locks for quick and secure clamping. The tripod also incorporates a carrying handle in its design. These features simplify transporting the 30L legs to or from a shoot.

Features

Dual-stage, carbon fiber, 100mm bowl tripod

Weighs only 8.8 pounds but supports up to 209 pounds

For OConnor 1030D/1030Ds and other 100mm-ball heads

Floor Spreader for 30L / 60L Tripod

The Floor Spreader for 30L / 60L Tripod from OConnor is a floor spreader designed for use with an OConnor 30L or 60L tripod. The floor spreader is also compatible with all Sachtler 100 and 150 bowl tripods (excluding the DA 100 K, DA 150K, and Cine).

Compatible with 30L and 60L OConnor tripods, as well as all Sachtler 100 and 150 bowl tripods (with exception of DA 100 K, DA 150K, and Cine)

Adjustable spreader legs

C1254-0001 SOFT Carrying Case for 1030 Systems with 30L Tripod (Black)

Store, protect, and transport your 1030 systems 30L Tripods with the black C1254-0001 Soft Carrying Case from OConnor. The case features a padded interior, zipper closure and dual carry handles.

spec

 

 

Ultimate 1030D Fluid Head

Camera Plate
Camera Plate Features
Sliding Balance Plate

Tripod Platform
Base Mount
100 mm Half Ball

Pan & Tilt
Drag Control
Tilt: Continuous
Pan: Continuous
Vertical Tilt
+90° to -90°
Panning Range
360°
Independent Pan Lock
Yes
Independent Tilt Lock
Yes

Physical
Load Capacity
30 lb / 13.6 kg
Counter Balance
Continuous
Bubble Level
1 x Illuminated
Dimensions
6.6" / 16.8 cm
Weight
8.7 lb / 3.9 kg

Packaging Info
Box Dimensions (LxWxH)
18.1 x 10.4 x 7.9"

30L Two-Stage Carbon Fiber Tripod Legs (100mm Bowl, Standard)

General
Head Mount Type
100 mm Bowl
Load Capacity
209 lb / 95 kg
Maximum Working Height
61.8" / 157 cm
Minimum Working Height
22" / 56 cm
Folded Length
29.5" / 75 cm
Materials
Aluminum, Carbon Fiber
Weight
8.8 lb / 4 kg

Legs
Leg Lock Type
Flip Lock
Leg Sections
3

Packaging Info
Box Dimensions (LxWxH)
34.5 x 9.5 x 9.0"

Floor Spreader for 30L / 60L Tripod
Reviews
If you have any questions regarding this product feel free to call The Film Equipment Store where one of our experts will be happy to help. We are here for you.
We try to ensure we are giving our customers the best advice and best value on all our products however if you do see this product cheaper else where simply tell us and we will endeavor to match the price.