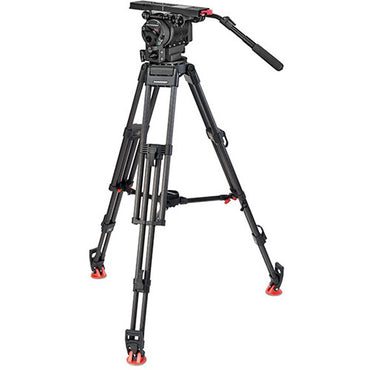 OConnor Ultimate 2560 Fluid Head & 60L 150mm Bowl Tripod with Mid-Level Spreader - C2560-60L150-M
Description
OConnor Ultimate 2560 Fluid Head & 60L 150mm Bowl Tripod with Mid-Level Spreader - C2560-60L150-M
OConnor Ultimate 2560 Fluid Head Package
The Ultimate 2560 Fluid Head Package from OConnor is designed for use with the current crop of digital cinema cameras. Weighing less than 18 pounds, 2560 is capable of supporting camera payloads up to 66 pounds at a 6" center of gravity above the platform, making it well suited for cameras such as the ARRI Alexa in a portable configuration or any lightweight digital cinema camera in a full studio configuration. The head comes packaged with both a Mitchell base and a 150mm ball base adapters with tie-downs for expanded tripod compatibility. It also comes with a large Euro-style quick release for rapid mounting and dismounting of large camera rigs, a pan handle, and a pan handle extension.

Crafted for cine-style shooting, the head design delivers cinema standard positioning of controls, including brakes and rosettes, for easy and intuitive use. The 2560 fluid head also features OConnor's patented sinusoidal counterbalance system for accurate balance at any point in the tilt range. In combination with the step-less, smooth pan and tilt fluid drag, the 2560 delivers control and stability for digital cinema shooters.
Key Features
Supports up to 66 pounds at 6" center of gravity above the platform
Magnesium frame and carbon fiber cover keeps weight under 18 lb
Cinema standard positioning of controls, including brakes and rosettes
Sinusoidal counterbalance system
Stepless pan and tilt fluid drag
Mitchell base and 150mm ball base adapter with tiedowns
Euro-style quick release
Pan handle with pan handle extension
OConnor 60L Carbon Fiber Tripod System with 150 mm Bowl
The OConnor 60L Carbon Fiber Tripod System with 150 mm Bowl supports tripod heads that have a 150 mm leveling ball. The legs feature 2-stages and weigh only 9 pounds, however they can support 209 pounds and extend from a minimum height of 22.8" to a maximum height of 60.6" when using the included mid level spreader.
The mid level spreader and individually adjustable legs allow you to set up a stable position on rocky, uneven terrain and even on stairs. The mid level spreader avoids the stresses and instability that a ground spreader can cause when working on uneven surfaces. When working situations require it, the spreader can be detached individually from each leg and the dual spikes at the end of each leg provide a solid anchor point when working on soft ground. The removable rubber feet snap onto the dual spikes for working inside or on slippery surfaces.
The system also features OConnor's smart quick clamping system that provides a visible clamp lockdown so you know your legs are secure. A small accessory hook under the 150 mm bowl allows you to hang various available tools and items such as a small set bag or foam rubber pad for shouldering the legs during camera position changes.
Reviews
If you have any questions regarding this product feel free to call The Film Equipment Store where one of our experts will be happy to help. We are here for you.
We try to ensure we are giving our customers the best advice and best value on all our products however if you do see this product cheaper else where simply tell us and we will endeavor to match the price.