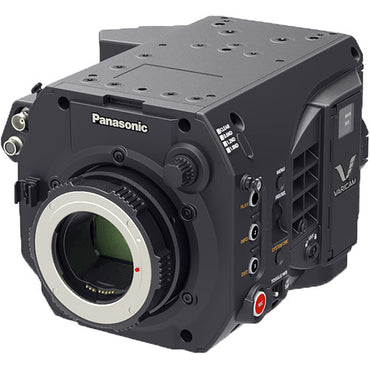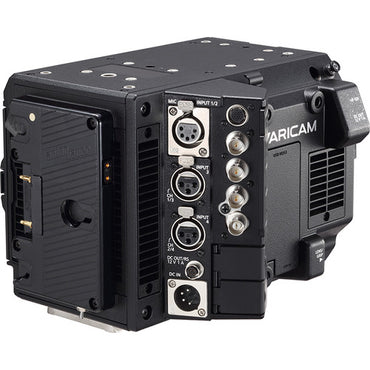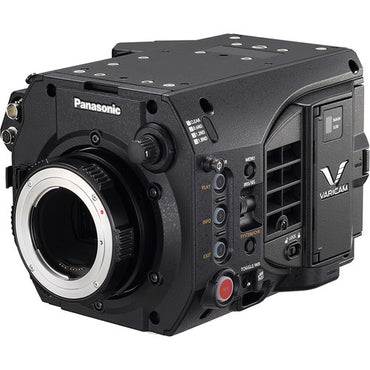 Panasonic Cinema VariCam LT 4K S35 Digital Cinema Camera (EF Mount)
Overview
 
Panasonic's Cinema VariCam LT 4K S35 is a single Super 35-sized sensor digital cinema camera with a lightweight magnesium body and interchangeable lens mount. It shares the same sensor as the Varicam 35, which features dual native ISO ratings of 800 and 5000. The camera is capable of capturing 14-stops of dynamic range when using V-Log and recording up to 60 fps at 4K, and up to 240 fps at 2K.
You can record your footage to high-data-rate files using the camera's built-in expressP2 card slot (expressP2 cards not included) while simultaneously recoding proxy files to the camera's SD card slot. The proxy files can incorporate color grading changes that the high-resolution files do not, making it easy for post to see your intent, without baking the look into your high-quality, camera-original files. The camera features selectable gamma curves, allowing you to get the most out of the sensor. It supports recording using AVC-Intra, AVC-Intra 4K, and Apple ProRes codecs. The 3.5" control panel can function as an LCD screen or be used to control the camera's functions.
The VariCam LT ships with a removable stainless steel EF mount, which you can swap out for a PL mount if you choose. Please note that the PL mount is not included and must be sourced separately.
Same Imager as VariCam 35

The VariCam LT is equipped with the Super 35mm, single-chip MOS that offers 4K (4096 x 2160) and UHD (3840 x 2160) resolution. It boasts high sensitivity, low noise, and wide dynamic range. The sensor's size delivers the classic cinematic depth of field as it is the same size as the film frame in motion picture cameras.
Wide 14+ Stops of Latitude

The camera features a dynamic range of 14+ stops when shooting in Panasonic's BV-Log, which enables accurate image rendering over the entire image, from dark areas to highlights. Even in very dimly lit scenes, the VariCam LT provides low-noise images without any compromise in picture quality.
Dual Native ISO of 800/5000

The sensor of the VariCam LT has two dedicated analog circuits that are implemented on every pixel. This allows the sensor to have two native ISO settings: 800 and 5000. The noise level at 5000 ISO is nearly identical to that seen at 800 ISO. Normally noise is introduced in the gain process of rating ISO in digital cameras; however, the native 5000 ISO rating sidesteps the issue of adding gain to capture low light images.
Expansive Color Gamut

The VariCam LT is equipped with V-Gamut, which encompasses the entire BT.2020 color space.
Scene Files and V-LOOK

The VariCam-LOOK (V-LOOK) mode is a setting for creating cinematic images without color grading. Featuring a gamma curve that allows detail to be maintained over a greater tonal range within the Rec 709 color space that has also been included in the VariCam LT. The V-709 gamma setting provides a tone suitable for viewing on standard monitors while the BC-LOOK creates a look that mimics traditional TV broadcast images.
Monitoring Output Terminals

The VariCam LT provides down conversion to Full HD via two 3G HDSDI outputs and one VF output (BNC) while shooting in 4K.Your look with in-camera color grading and information overlay can be applied to each output.
Native 4K/60p Shooting

The maximum frame rate when recording in 4K (4096 x 2160) or UHD (3840x2160) resolution is 60p (60 fps).
2K/HD 240p Slow Motion

When shooting in 2K (2048 x 1080) and HD (1920x1080) resolution, high-speed 240 fps recording can be used to produce an extreme slow-motion effect. Variable frame rates are available from 1 to 120 fps in AVC-Intra 2K422 and from 120 to 240 fps in AVC-Intra 2K-LT. The frame rate is variable in-shot while recording.
Multiple Codec 4K/UHD/2K/HD Recording

Using the AVC-Intra 4K codec, the VariCam LT can record 4K (4096 x 2160) or UHD (3840 x 2160) resolution. For 2K recording, the VariCam LT supports AVC-Intra 2K444/2K422/2K-LT. For HD recording, the VariCam LT supports AVC-Intra 444/422/100/LT and Apple ProRes 4444/HQ.
Media Card Recording

Using the 256 GByte expressP2 card, the camera can record approximately 90 minutes of 23.98p 4K video with AVC-Intra 4K422. The camera can simultaneously record proxy-quality footage to an SD card.
In-Camera Color Grading

The VariCam LT features an in-camera color grading function (3D LUT/CDL). This enables color tuning on set as well as in the field when using the camera control panel or 3rd party software. Grading information such as 3D LUT files and CDL files can be recorded simultaneously with the image data, providing a simple way of protecting your vision from overly aggressive editorial tweaking.
Main and Proxy Recording

The VariCam LT can record files to an SD memory card while simultaneously recording high-data-rate files to an optional expressP2 card.This feature lets you record an ungraded 4K master with V-Log in the main expressP2 card recorder while simultaneously recording graded HD files on the SD memory card.
IR

The VariCam LT features a removable IR filter. This allows you the freedom to record footage with or without the IR cut filter in any lighting situation.
Lightweight, Tough, and Flexible

The lens mount is made of stainless steel and designed to prevent flange back deviation due to temperature changes.
The camera body is made of strong, rigid magnesium.
The top and bottom panels have been made flat for easy installation of various plates and accessories.
Mounting holes are provided on both sides as well as on the handle for convenient mounting of accessories.
Features
The VariCam 35's (AU-V35C1) superb image handling in multiple formats including 4K, UHD, 2K and HD make it an unparalleled tool for high-end filmmaking, commercials and episodic production as well as live 4K events. With an expanse of formats ranging from flawless 4K RAW output to more practical 4K, UHD, 2K and HD capture, the VariCam 35 when combined with the AVC-ULTRA codecs for 4K enables very manageable and practical 4K production file sizes.

The VariCam 35 utilizes a new Panasonic super 35mm MOS sensor for 4096 x 2160 (17:9) 4K image capture; this imager boasts an impressive 14+ stops of latitude and faithfully captures high-contrast, wide dynamic range imagery without compromise. Powerful colour management capabilities provide a much extended colour gamut for impeccable image fidelity and permit support for an Academy Colour Encoding System (ACES) workflow for full fidelity mastering of original source material.

Key Features

Lesser products cannot compete with the sheer image quality of the VariCam's 14-stop full 4K sensor. Nor can they offer the versatility of a modular system that allows users to switch between the VariCam 35 front end and the VariCam HS for high speed HD recording and use of versatile B4 ENG lenses. Other clever innovations include the ability to record internally in three different formats - 4K, HD and HD proxy - each with a different LUT; this will be of enormous benefit to cinematographers.


Product Highlights
Single Super 35mm MOS Sensor
Interchangeable Stainless Steel EF Mount
Dual Native ISO 800/5000
14 Stops of Dynamic Range with V-Log
4K Up to 60 fps, 2K/HD Up to 240 fps
Simultaneous Dual Codec Recording
Selectable Gamma Curves
Removable IR Cut Filter
AVC-Intra, ProRes
3.5" LCD Control Panel


Shot On Varicam:
Specifications
Panasonic VariCam LT Specs
Image Sensor
Image Sensor Size
Super35
Sensor Type
MOS
ISO
800 (Native)
Camera
Lens Mount
Canon EF
Built-In ND Filter
Mechanical Filter Wheel with 2 Stop (1/4), 4 Stop (1/16), 6 Stop (1/64) ND Filters
Recording Media
1 x

 

expressP2 Card Slot
1 x

 

SDXC Card Slot
Internal Recording
Recording Modes
AVC-Intra 4:2:2:

 


4096 x 2160p at 23.98/24/25/29.97 fps 
3840 x 2160p at 23.98/25/29.97 fps 
AVC-Intra LT:

 


4096 x 2160p at 23.98/25/29.97/50/59.94 fps 
3840 x 2160p at 23.98/25/29.97/50/59.94 fps 
Audio Recording
4-Channel 24-Bit 48 kHz
Interfaces
Video Connectors
2 x

 

BNC (3G-SDI) Output
1 x

 

BNC Monitor Output
Audio Connectors
1 x

 

5-Pin XLR Input
2 x

 

3-Pin XLR Input
1 x

 

1/8" (3.5 mm) Stereo Headphone Output
Other I/O
1 x

 

12-Pin Lens Control 
1 x

 

10-Pin RCU Control Input/Output
1 x

 

USB Type-B 
1 x

 

BNC Timecode Input/Output
1 x

 

USB Type-A 
1 x

 

20-Pin Monitor 
1 x

 

6-Pin GPS 
1 x

 

BNC Genlock Input
1 x

 

RJ45 LAN 
1 x

 

12-Pin Lens Control 
Power
Battery Type
Gold Mount
Power Connectors
1 x 4-Pin XLR (11 to 17 VDC at1.5 A) Output
1 x 4-Pin XLR (11 to 17 VDC) Input
Power Consumption
≥77 W
General
Accessory Mount
1 x

 

1/4"-20 Female
Dimensions
7.2 x 9.1 x 9.7" / 184 x 230.5 x 247 mm (Without Protrusions)
Weight
6.0 lb / 2.7 kg
Packaging Info
Package Weight
10.6 lb
Box Dimensions (LxWxH)
15.0 x 14.5 x 11.5"
Reviews
If you have any questions regarding this product feel free to call The Film Equipment Store where one of our experts will be happy to help. We are here for you.
We try to ensure we are giving our customers the best advice and best value on all our products however if you do see this product cheaper else where simply tell us and we will endeavor to match the price.