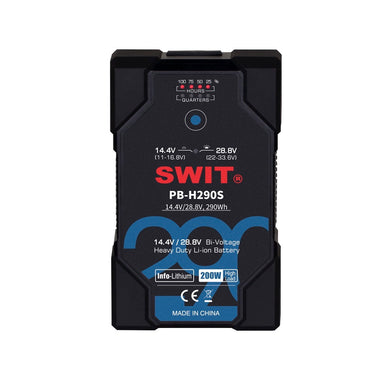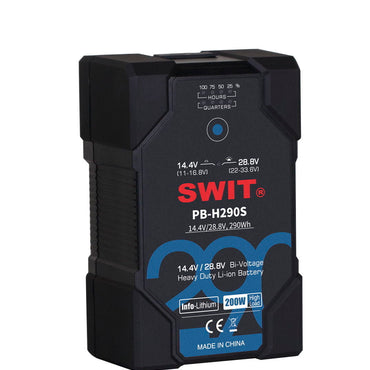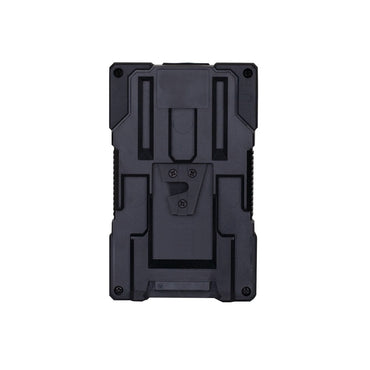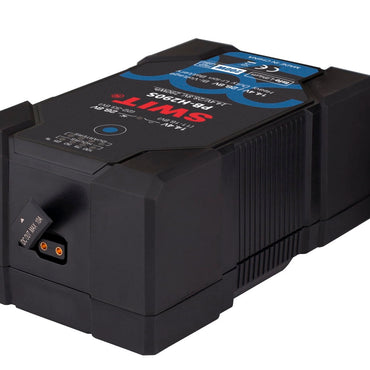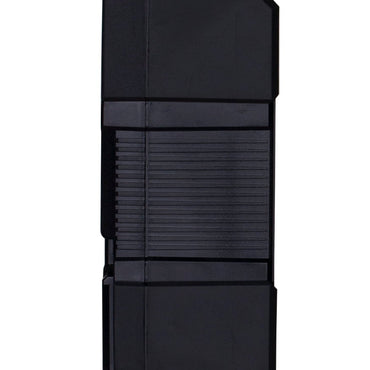 SWIT PB-H290S Bi-Voltage Battery
Description
About The Swit PB-H290S Bi-Voltage Battery
The ARRI Alexa LF / 65 require on-board battery input voltage 19.5-34V only, and the normal 14.4V (11-16.8V) batteries are no longer compatible.
The existing 26-28.8V high voltage batteries can power Alexa LF/65, but the high voltage with the same physical connectors will surely damage other normal cameras. 
A better solution is to use normal 14.4V battery with a DC boost plate, but the current between battery and V-plate will get quite high with 160W load and 14.4V voltage, and will melt the battery pins.
Now you will have a great solution for Alexa LF/65: the SWIT Intelligent Bi-voltage Battery, can output both 11-16.8V normal voltage and 22-33.6V high voltage, with auto recognition and switching by the dedicated V-mount plate, compatible with Alexa LF/65 and all other normal cameras and devices, with no risk of misusing.
The Bi-voltage battery PB-H290S output normal 11-16.8V voltage as default, you can attach to any normal V-mount
cameras or other devices, and any normal voltage chargers.
Use the ARRI ALEXA dedicated V-mount plate KA-A20S, PB-H290S battery can recognise and auto switch on 22-33.6V, to power Alexa LF/65/SXT/AMIRA.
Beside ALEXA cameras, many Cine Lights are also designed high voltage input, to reduce current effectively, and protect power pins and ensure the reliability. You can easily put on a "Magic Sticker" on the particular position of all standard V-mount plates, then PB-H290S battery can recognize and auto switch on 22-33.6V output mode.
PB-H290S consists of 24pcs high class 18650 battery cells, and reaches 290Wh high capacity. PB-H290S supports Max 200W constant power output, can drive ALEXA LF (160W) more on-camera monitors or wireless simultaneously. The high load battery will have longer life time than normal battery if always under full load power.
PB-H290S supports 6A fast charging by SWIT S-3812S fast charger, to save more than 50% charging time, can be charged from 0 to 80% after 2 and half hours, and fully charged within 4 hours 15 minutes. 
A D-tap DC output socket is equipped on the top side of the battery pack, to power the other on-camera equipment together. Under 14.4V (11-16.8V) output mode, D-tap output 11-16.8V and Max load 120W/10A; Under 28.8V (22-33.6V) output mode, D-tap output constant 16V and Max load 50W/3A.
When battery is discharging:
Press "Power Check" button, Upper 4 LEDs display remaining working hours, and Lower 4 LEDs display remaining working minutes, under current output power. The LED will flash when remaining time is less than 15 minutes to remind changing battery.
When battery is charging:
Upper 4 LEDs flashing constantly, indicates the real-time capacity percentage 25%, 50%, 75% and 100%.
When battery is free:
Press "Power Check" button, Upper 4 LEDs light up, to indicate the remaining capacity percentage 25%, 50%, 75% and 100%.
PB-H290S has innovative dual housing structure: the inner cell cage and outer anti-shock housing with rubber covers. The new structure makes the battery quite strong, anti-shock. The battery can survive from 1.5 meters any angles drop-off.
Features
14.4V/28.8V Bi-voltage auto switch
For ALEXA LF/65 high voltage cameras
For all normal voltage cameras
For high voltage cine lights
Compatible with normal voltage chargers
290Wh capacity, Max 200W high load
6A fast charging support
8-LED remaining time indicators
D-tap power output socket
Normal V-mount connection
Strong 1.5m drop-off proof
Multiple circuit protections
Reviews
If you have any questions regarding this product feel free to call The Film Equipment Store where one of our experts will be happy to help. We are here for you.
We try to ensure we are giving our customers the best advice and best value on all our products however if you do see this product cheaper else where simply tell us and we will endeavor to match the price.