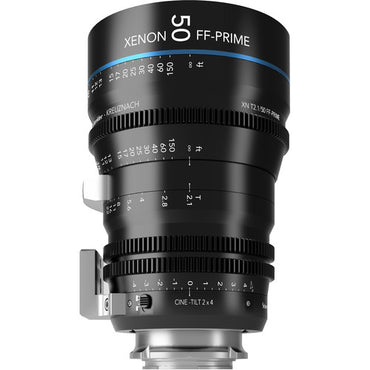 Schneider FF Prime Cine-Tilt 50mm T2.1 Lens (Feet)
Overview
The Schneider Xenon FF Prime Cine-Tilt 50mm T2.1 Sony E-Mount Lens marked in feet is designed to intercut with the Schneider FF Primes. However, it incorporates ±4° of tilt adjustment enabling you to change the focus plane of the lens. FF stands for full-frame, and every lens in the set covers a full-frame image sensor without vignetting and is designed for 4K image capture. This lens is color matched to a standard at the factory, minimizing color shift when changing lenses. It features a 14-blade iris which provides a natural-looking Bokeh with circular, out-of-focus highlights and 300° of lens barrel rotation. The 50mm shares the same focus and iris gear position, as well as the same 100mm front barrel diameter with the other lenses in the Xenon FF line of lenses.
The lens features a barrel with a large circumference, providing wide spacing for focus marks. Opposing focus scales provide properly oriented focus marks on both sides, so an assistant can pull focus from either side of the lens. The lens features gears for focus, iris, and tilt, which allow you to adjust each using industry standard lens accessories. The 50mm features a removable lens support bracket, so you can use an available lens support if you wish.
4K/Full Frame

The lenses are designed to cover a full-sized image sensor and provide 4K resolution for image capture.
Focus Tilt

Designed to allow ±4° of tilt, which allows you to shift the focus plane of the lens. This enables keeping subjects in focus that are not the same distance from the camera's image plane without having to close down the iris and increase depth of field. When the tilt is set to 0°, the lens functions the same as a standard FF Prime Cine lens.
Color Matched

The lenses are color matched to a standard ensuring consistent color across lenses. This allows you to purchase additional Xenon FF lenses, as you need, without having to search through multiple lenses trying to assemble a matched set.
Functionality

The lenses share the same physical characteristics across the set, this includes the length, diameter, and focus and iris gear position. This speeds up lens changes in the field, minimizing adjustments to matte boxes and lens accessories.
Focus Barrel Rotation

300° of lens barrel rotation provides for accurate focus adjustments throughout the range.
Tilt Barrel Rotation

120° of rotation provides for precise tilt adjustment of the lens throughout the range of -4 to +4°.
Features
Covers Full Frame Sensors
±4° of Tilt
Supports 4K Recording Quality
Color Matched to Factory Standard
Shares Characteristics Across FF Primes
14-Blade Iris
300° Focus Barrel Rotation
Minimized Focus Breathing
Standard Gears for Focus, Iris, and Tilt
Removable Lens Support Bracket


Specifications
Focal Length
50mm
Lens Mount
Canon EF
Format
Full Frame
Maximum T-Stop
T2.1
Minimum T-Stop
T22
Horizontal Angle of View
Super35: 28°
Full Frame: 40°
Minimum Focus Distance from Image Plane
19.7" / 50 cm
Front Diameter
100 mm
Filter Thread
M95
Focus Scales
Imperial
Focus Rotation
300°
Length
5.34" / 135.6 mm
Weight
2.6 lb / 1.2 kg
Packaging Info
Package Weight
3.35 lb
Box Dimensions (LxWxH)
10.4 x 6.7 x 5.6"
Reviews
If you have any questions regarding this product feel free to call The Film Equipment Store where one of our experts will be happy to help. We are here for you.
We try to ensure we are giving our customers the best advice and best value on all our products however if you do see this product cheaper else where simply tell us and we will endeavor to match the price.