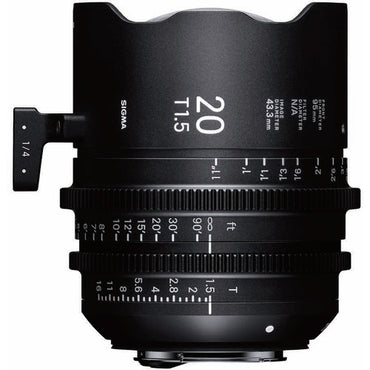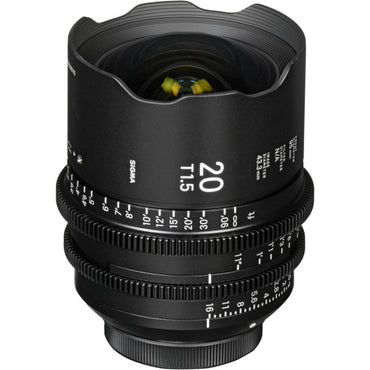 Sigma 20mm T1.5 FF High Speed Prime Cine Lens - Feet Scale
Overview
The Sigma range of lenses are available at our Dublin showroom. You are welcome to drop in for a coffee and try them out.
Sigma's FF High-Speed Prime Lenses combine the same high-quality optics and mechanics of their Global Vision still line in a cine-oriented design. This 20mm PL-mount prime is a wide focal length in the series, offering full-frame sensor coverage, 6-8K resolution, and a fast T1.5 aperture in a compact, lightweight form; it is also available in Sony E and Canon EF mounts. A common 95mm front diameter and similar physical attributes across the lens line make it easier and quicker to mount lens accessories such as matte boxes, follow focuses, and lens control motors.
The 9-bladed iris produces pleasing out-of-focus bokeh effects, and ghosting and flaring have been minimized. Color reproduction is standardized for easier color correction. Each lens in the range offers consistent lens gear positions and 180° of focus barrel rotation. The FF High-Speed Primes also feature a clickless iris with linear markings, dampeners on each gear ring for silent operation, industry-standard 0.8 module gear pitch, and engraved markings for durability. Select markings are done in luminous paint for easy visibility in low light. To relieve stress on your camera's lens mount, a support foot is built into the dust- and water-resistant metal lens body.
Lens Design and Testing

Introduced with the Global Vision initiative, Sigma's A1 MTF testing, using a 46 megapixel Foveon sensor, analyzes each lens before it leaves the factory, ensuring that the lens performs as intended and provides sharp images on high-resolution sensors. Advanced computer-aided design of these lenses enables Sigma to minimize flare and ghosting even before manufacturing. All these steps bring improved quality and consistency to Sigma's manufacturing.
Optical Qualities

Though many lenses that prioritize sharpness sacrifice the appearance of out-of-focus elements, Sigma's High Speed Prime lenses are designed to not compromise on bokeh, rendering sharp in-focus images and soft bokeh. Additionally, all Sigma High Speed Prime lenses are color matched. With color-matched lenses, shots taken with different lenses can utilize the same color correction, saving time in post-production.
Build Quality

For durability, the outer shell of the lens is manufactured from lightweight yet durable metal. The tightly sealed exterior resists both water and dust ingress, similar to Sigma's Sports lens line. The focus and iris rings both feature silent end-stops using resin-dampening. The end of the focus travel will have a solid feel, yet won't disrupt quiet scenes. Cine-style push-on lens caps are included to protect the front element when the lens is not in use.
Features
Wide focal length coverage

The lineup covers everything from wide angle to telephoto. Produce an entire work with SIGMA lenses alone.

Compatibility

Compatibility has been confirmed with each brand of cinema cameras.

Lenses for both S35 and full-frame

The High Speed Zoom Line is compatible with Super35, the image size standard used by typical digital cinema cameras, while the FF High Speed Prime Line and FF Zoom Line are compatible with a full-frame image circle.

Strong high-speed lens lineup

T1.5 is available in FF High Speed Prime Line, while the High Speed Zoom Line achieves T2 throughout the zoom range. These options enable cinematographers to shoot with a wide range of expressive purposes.

Inspecting each and every lens

There are three requirements for outstanding lenses: fine design, precise manufacturing and inspection that ensures compliance with all specifications. SIGMA lenses are born of outstanding design concepts and excellent manufacturing technology, but they are not complete until they undergo their uncompromising lens performance evaluation. SIGMA has developed their own A1 proprietary Modulation Transfer Function (MTF) measuring system using 46-megapixel Foveon direct image sensors. Even previously undetectable high-frequency details are now within the scope of their quality control inspections. Each and every lens is checked before shipping. Thanks to the ultra-high resolution sensors, high- performance shooting is assured.

Minimisation of flare and ghosting

Computer-based ray tracing has been used from the design stage onward to minimise flare and ghosting and enhance contrast in backlit conditions. Ghosting has also been checked at every prototype stage, with its causes identified, assessed, and eliminated.

Sharpness combined with outstanding bokeh effect

To fulfill the high demands for image quality in still photography, SIGMA has solved a wide range of issues. The benefit of these efforts can now be enjoyed in cine lenses as well.

Colour balance standardised across the lineup

All of the lenses in the lineup are designed to comply with SIGMA's CCI standard. Standardised colour balance makes colour correction a snap.

6K-8K class resolution

The lineup features the same optical system that delivers 50-megapixel plus resolution in still photography. Therefore, these lenses are ready for higher resolution shooting, and are ideal for chroma keying as well.

Lightweight and compact

Leveraging the high-precision, high-efficiency mass production technologies developed for its still camera lenses, SIGMA has made extremely lightweight and compact cine lenses a reality. Featuring all functions essential to cinematography, these lenses keep weight and size to a minimum, while their specification is optimised for enhanced durability. The end result is a combination of performance and compact design at the highest level.

Dust-proof and splash-proof construction

The lineup features the same dust-proof and splash-proof construction as the SIGMA 150-600mm F5-6.3 DG OS HSM|Sports. With each ring and mount specially sealed to prevent water and dust from entering, this lens is ready for use in tough conditions. The unusually robust specification of the lineup allows the user to concentrate on shooting while significantly reducing the burden of maintenance.

100% metal body

The body is made completely of metal to stand up to tough professional use over the long term.

Luminous paint for enhanced visibility

The specification, gradation baseline, and lens change indications all feature luminous paint to aid in changing and operating the lens in the dark.

Laser engraving for enhanced durability

Information on each ring is laser-engraved for use over the long term. In addition, tape may be placed on gradations without fear of stripping away the paint when the tape is removed.

82mm filter size*

The filter size is standardised at 82mm, allowing users to use the same size of ND filter on different lenses.

*Certain lens models are not compatible with 82mm filters.

95mm front diameter

The front diameter is 95mm, similar to that of other cine lenses and compatible with matte boxes. Compared to lenses in the same class, SIGMA's cine lenses are more lightweight and compact.

Standardised gear positions

The positions of the gears in each ring are standardised, eliminating the need to adjust the follow focus, motor unit, or accessories even when the lens changes.

0.8M gear pitch

Each lens has a 0.8M gear pitch, which is the standard for cine lenses, ensuring compatibility with existing accessories.

Silent ring stoppers

The stopper of each ring incorporates a damper made of a special resin, resulting in silent operation. While offering a satisfying lock feel, this feature eliminates any metallic sounds, allowing the user to shoot with confidence in a quiet area.

180° focus rotational angle

At 180°, the rotational angle of the focus ring is more than double that of a still camera lens, making possible extremely high-precision focusing. SIGMA has also optimised the cam for cine lenses for even easier long distance focusing.

160° zoom rotational angle

At 160°, the rotational angle of the zoom ring is more than double that of a still camera lens, making possible extremely high-precision zooming.

Iris with optional manual control

Featuring optional manual control, the iris ring offers smooth control without clicks. The T-stop display, which is standard in cine lenses, contributes to high-precision exposures. Just like other high-end cine lenses, the rotational angle of the iris ring is 60°.

Linear iris ring

The linear iris ring gives users the same rotational angle per T-stop for direct, intuitive control.

Mount Conversion Service

Seeing lenses as valuable assets, SIGMA now makes the Mount Conversion Service available for its new cine lenses. Successfully implemented for their still photography camera lenses, this service allows users to convert their lenses to and from EF and E-mounts (charges apply). If the camera system changes, it is possible to simply convert the mount system to continue using the high-performance SIGMA lenses.

PL, EF and E*

Available lens mounts are the Canon EF mount, which is used on the majority of digital cinema cameras, and the Sony E-mount, which is used on the Sony FS series. All lenses in the lineup may also be used on still cameras with the compatible mount for outstanding DSLR movie shooting.

*24-35mm T2.2 FF is not available in PL mount.

Mount with electronic contacts

The mount with electronic contacts allows the lens to communicate important information to the body (focal length, shooting distance, aperture etc.).

Enhanced EF mount*

The hole for the stopper pin has been strengthened with a separate part to minimise loosening over time and enhance long-term use.

*Only applicable for Canon EF mount

Dedicated lens support foot

Coming as a standard accessory with all lenses in the lineup, the lens support foot helps minimise load on the camera body while enhancing mount stability. The height of the seating surface is designed for compatibility with other accessories. Even though the lens is compact, its robust design offers two different screw holes for this accessory to increase user options.

Cine-style front lens cap

All lenses come complete with a conventional cine-style front lens cap.
Specifications
Focal Length
20mm
Lens Mount
ARRI PL/Canon EF/Sony FE
Format
Full Frame
Image Circle
43.3 mm
Maximum T-Stop
T1.5
Minimum T-Stop
T16
Horizontal Angle of View
Full Frame: 84.0°
Super35: 63.2°
APS-C (1.5x): 61.3°
Minimum Focus Distance from Image Plane
0.9' / 0.27 m
Iris Blades
9
Gear MOD & Pitch
Focus: 0.8 MOD / 32 Pitch
Iris: 0.8 MOD / 32 Pitch
Front Diameter
95 mm
Filter Thread
None
Focus Scales
Imperial
Focus Rotation
180°
Electronic Communication
No
Tripod Mounting Thread
1/4"-20
Length
4.33" / 110 mm
Weight
2.7 lb / 1240.0 g
Packaging Info
Package Weight
3.8 lb
Box Dimensions (LxWxH)
9.6 x 6.8 x 6.8"
Reviews
If you have any questions regarding this product feel free to call The Film Equipment Store where one of our experts will be happy to help. We are here for you.
We try to ensure we are giving our customers the best advice and best value on all our products however if you do see this product cheaper else where simply tell us and we will endeavor to match the price.