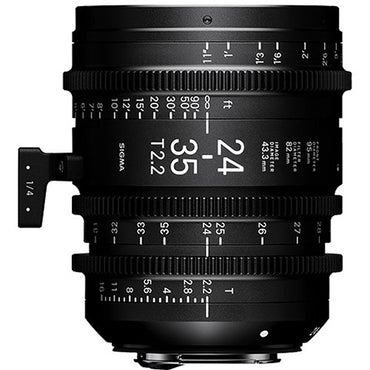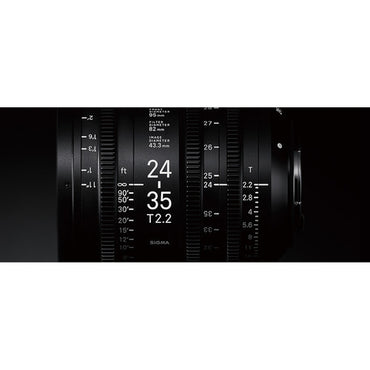 Sigma 24-35mm T2.2 FF Zoom Cine Lens ( EF & E Mount ) - Feet Scale
Overview
The Sigma 24-35mm T2.2 FF Zoom Lens  combines high-quality optics and a compact form factor in a cine-oriented design. This zoom provides an image circle that covers full frame-sized sensors and produces an image quality suitable for 6K-8K capture. It features a maximum T-stop of 2.2, without any aperture ramping over the zoom range. The 24-35mm T2.2 Cine FF Zoom shares common lens gear positions with the lenses in the Sigma High-Speed Zoom lineup, which makes for rapid lens changes.
The 9-bladed iris provides round out-of-focus highlights for a natural-looking bokeh. The 24-35mm T2.2 Cine FF Zoom's lens barrel features 180° of rotation from close focus to infinity, its zoom barrel rotates 160°, and its clickless iris ring features 60° of rotation. All three lens control rings are geared with cine-standard 0.8 Mod gears, and the focus scale is marked in meters. The front of the lens barrel is 95mm in diameter and the lens has select markings done in luminous paint for easy visibility in low light. To relieve stress on your camera's lens mount, a support foot is built into the dust- and water-resistant metal lens body, helping support the lens with the aid of a 1/4"-20 rod-mounted lens support (not included).
If you wish to fit your Cine FF Zoom lens to a different camera, the Canon EF and Sony E mount versions can be converted from one to the other by an authorized Sigma service center.


Covers Full Frame Sensors
Canon EF Mount
T2.2 to 16 Aperture Range
Geared Focus, Iris, & Zoom Control Rings
Features
High image performance covering full frame sensors; suitable for 8K capture
Fast T2.2 maximum aperture aids in shooting with low light levels
Compact, dust- and water-resistant design with a common front diameter of 95mm across the Sigma Cine lens line
Canon EF and Sony E mounts may be swapped at an authorized Sigma service center (not available for PL mount versions)
All three lens gears are industry-standard 0.8 Mod and feature a damper to eliminate any sound when you reach the end of the lens travel
Specifications
Focal Length
24 to 35mm
Lens Mount
Canon EF
Format
Full Frame
Image Circle
43.3 mm
Maximum T-Stop
T2.2
Minimum T-Stop
T16
Horizontal Angle of View
Full Frame: 73.7 - 54.4°
Super35: 54.3 - 38.7°
APS-C (1.5x): 52.6 - 37.4°
Minimum Focus Distance from Image Plane
11" / 0.28 m
Iris Blades
9
Gear MOD & Pitch
Focus: 0.8 MOD / 32 Pitch
Iris: 0.8 MOD / 32 Pitch
Zoom: 0.8 MOD / 32 Pitch
Front Diameter
95 mm
Filter Thread
82 mm
Focus Scales
Metric
Focus Rotation
180°
Iris Rotation
60°
Zoom Rotation
160°
Electronic Communication
Yes
Tripod Mounting Thread
1/4"-20
Length
4.84" / 123 mm
Weight
3.2 lb / 1440.0 g
Packaging Info
Package Weight
3.9 lb
Box Dimensions (LxWxH)
9.5 x 6.7 x 6.7"
Reviews
If you have any questions regarding this product feel free to call The Film Equipment Store where one of our experts will be happy to help. We are here for you.
We try to ensure we are giving our customers the best advice and best value on all our products however if you do see this product cheaper else where simply tell us and we will endeavor to match the price.