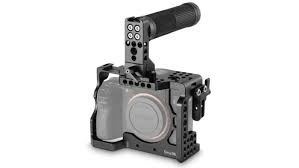 SmallRig Cage Kit for Sony A7R III/A7III 2096
Overview
Designer: Tracy Joy
SmallRig Cage Kit for Sony A7R III/A7III 2096
SmallRig Cage Kit 2096 is designed for Sony A7RIII/A7III. It offers great protection and lots of additional attachment options for the cameraman. It enables the camera to release its potential to the utmost as per the needs of cameraman during shooting.
Key Features:
1.It supports handheld shooting with delicate structure and rubber design.
2.It comes with HDMI lock to protect the HDMI cable and cable port.
3.It features light weight, simplicity and strong compatibility.
It includes A7RIII Cage 2087, HDMI Lock 1679, NATO Rail 1409 and NATO Handle (Rubber) 2005.
NATO Rail 1409 is mounted on A7RIII Cage 2087, and NATO Handle (Rubber) 2005 is mounted on the top of NATO rail for handheld shooting. It is ergonomically designed and it offers a very enjoyable handheld experience with rubber part on it. It features quick release and attachment and it is tightened by a wingnut.
A7RIII Cage 2087 comes with lots of ports and controls for different shooting scenarios based on the needs of cameraman. It fits the camera perfectly and serves for anti-twist purpose.
The A7RIII cage could be mounted with HDMI Lock 1679 on the left side to prevent HDMI cable from accidental loosening and and avoid the loss of video signals during transmission.
Compatibility:
Sony A7R III/A7III
Package Includes:
1 x A7RIII Cage 2087
1 x HDMI Lock 1679
1 x NATO Rail 1409
1 x NATO Handle (Rubber) 2005 
Product Dimensions: 145x186.5x157.5 mm
Net Weight: 482g
Package Size: 171x157x86 mm
Material(s): Aluminum Alloy
Reviews
If you have any questions regarding this product feel free to call The Film Equipment Store where one of our experts will be happy to help. We are here for you.
We try to ensure we are giving our customers the best advice and best value on all our products however if you do see this product cheaper else where simply tell us and we will endeavor to match the price.