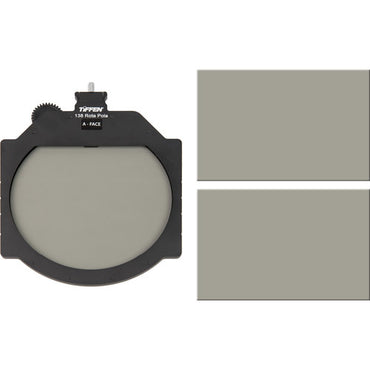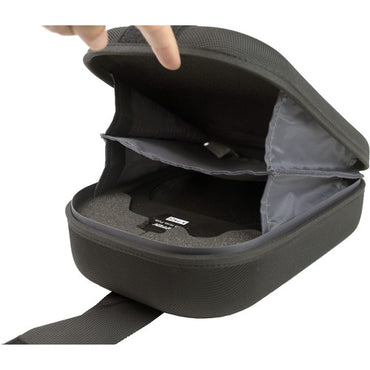 Tiffen Rotating Multi Tray Kit
Description
Tiffen (4565MULTROTVNDKIT) Rotating Multi Tray (RMT) Circular Polarizer Base Unit With 2 Additional 4 X 5.65 Variable ND With Warm / Cool FX Filter
The Tiffen Multi Rota Tray Variable Neutral Density Kit is a single geared rotating tray that allows the use and rotation of a 138mm Circular Polarizer filter and a 4x5.65" Circular Polarizer simultaneously. The tray is designed for use with matte boxes that lack a rotating filter stage, or for instances where a secondary rotating filter stage is required in a non-rotating stage. It can be used with just the included geared 138mm Circular Polarizer, or paired with the included 4x5.65" Circular Polarizer to function as a variable neutral density filter or to produce warm/cool effects, depending on the direction the tray and 4x5.65" filter are facing. A spare 4x5.65" Circular Polarizer is included..
The Multi Rota Tray fits into matte boxes which conform to the ARRI R2 tray size standard and its geared adjustment provides precise either by control by hand or a 0.8 MOD (32 pitch) gear wheel on a follow focus. It comes packaged in a rugged, compartmentalized storage case for protection and easy transport of the tray and included filters.
Key Features
Accommodates one geared 138mm Circular Polarizer and one fixed 4x5.65" Circular Polarizer (filters included)
6mm ARRI R2 standard 4x5.65" tray for use with matte boxes
Extra 4x5.65" Circular Polarizer included
Three Filter Effect Combinations: Polarizer, neutral density (up to 6-stops, depending on focal length), or warm/cool FX
Geared adjustment for precision control by hand or standard 0.8 MOD (32 pitch) gear wheel
Quick-release 4x5.65" filter attachment/removal
Tray engravings provide easy positioning
Protective case included
Reviews
If you have any questions regarding this product feel free to call The Film Equipment Store where one of our experts will be happy to help. We are here for you.
We try to ensure we are giving our customers the best advice and best value on all our products however if you do see this product cheaper else where simply tell us and we will endeavor to match the price.