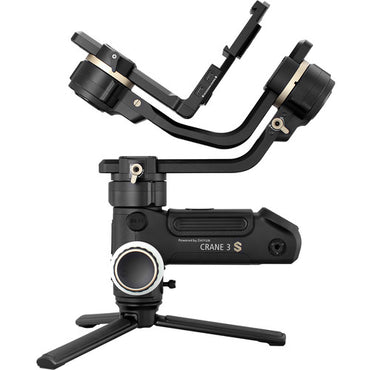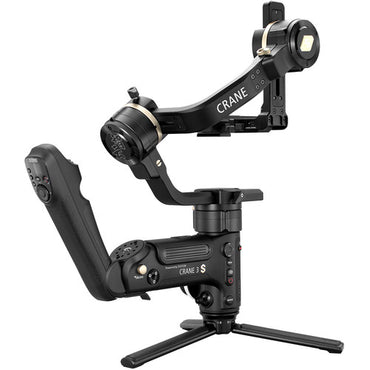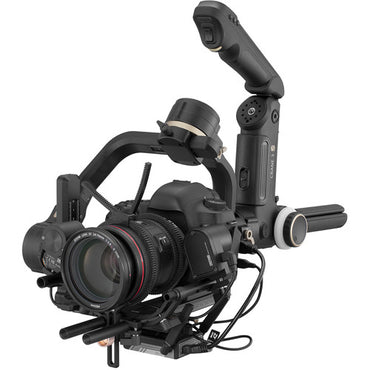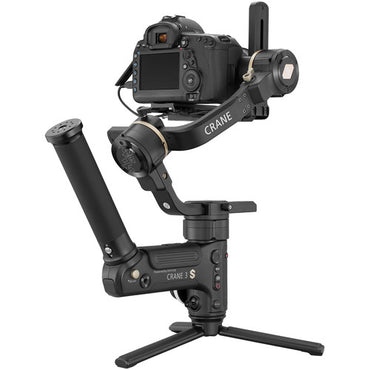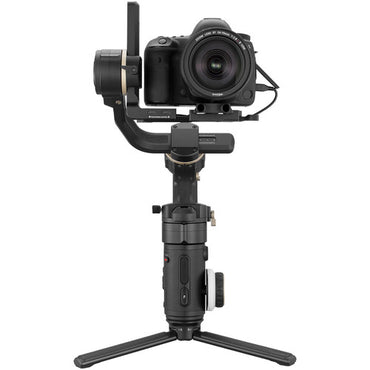 Zhiyun Crane 3S Professional Handheld Gimbal Stabiliser - EasySling Kit
Description
Key Features
14.3 lb Payload, Zoom and Focus Wheel
Redesigned Detachable EasySling Handle
Updated Axis Locking System
ViaTouch 2.0 Remote Motion Control
The CRANE 3S-E Handheld Stabilizer from Zhiyun-Tech is a powerful redesign of previous Zhiyun gimbals with the addition of detachable handle options, more powerful motors with a large 14.3 lb payload, an updated axis-locking system, external power input, and the ViaTouch 2.0 motion control system. The 55° angled roll axis allows you to fit your camera without blocking the view, and it is also modular so you can add an included extension arm to fit larger cameras.

The CRANE 3S-E features an angled, ergonomic handle that provides two-handed operation for optimal stability. The handle enables you to seamlessly switch to underslung mode, whether with one or two hands, and achieve creative shots such as 330° roll shots as you move closer toward a subject. It also has numerous advanced features such as remote control of camera record/stop/shutter using the included cables, an improved zoom and focus system from its predecessor the CRANE 3 LAB, and compatibility with the separately available Transmount Image Transmission System for wireless video transmission.

The 3S-E has two options for the detachable, angled handle. Included is the EasySling that provides a simple, comfortable handgrip without controls, and the optional SmartSling offers an ergonomic handle with an integrated joystick and control buttons. All the controls you need are provided at your fingertips at the top of the main handle. The free Zhiyun iOS/Android app provides many of the same control functions as well as special features such as panorama, focus time-lapse, motion time-lapse, long exposure time-lapse, camera settings, and more.

You can power the 3S-E using the three included batteries for up to 12 hours. However, if you need extra shooting time, a DC port allows you to plug in an optional battery pack such as the Transmount PowerPlus that contains six 18650 batteries, extending your shooting time for up to 18 hours. The CRANE 3S-E can be controlled using the updated ViaTouch 2.0 iOS or Android smartphone app via Bluetooth 5.0 for remote motion control and to manage the gimbal settings.

Nine accessory mounting threads are available around the gimbal to add a variety of Transmount or third-party accessories. Another major feature of the gimbal is a redesigned axis latch lock system consisting of a separate latch lock on each axis that provides solid locking in place without excess sway. This feature allows you to lock the individual axes to remember your balance positions when powering the gimbal off so you won't have to rebalance for each use.

Reviews
If you have any questions regarding this product feel free to call The Film Equipment Store where one of our experts will be happy to help. We are here for you.
We try to ensure we are giving our customers the best advice and best value on all our products however if you do see this product cheaper else where simply tell us and we will endeavor to match the price.